Praise for Rhys Morgan, 15, over 'miracle' cure alert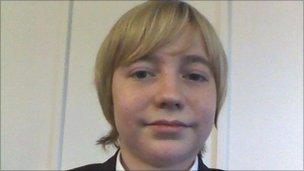 The food safety watchdog has praised a teenager who alerted it to a "miracle" cure sold over the internet which has been compared to bleach.
Rhys Morgan, 15, from Cardiff, who has Crohn's disease, found the US-based product on an online forum about the intestinal disorder.
The Food Standards Agency (FSA) issued an EU-wide warning and put UK councils on alert over retail sales.
Hefin Davies, of the FSA, said Rhys's actions had been "very positive".
The FSA has ordered councils to be on the look-out for retail outlets, including websites, selling the product, called Miracle Mineral Solution (MMS).
One website promoting the liquid described it as the "greatest breakthrough for all time" that is "bound to change medicine for ever".
The website claims hundreds of lives have been saved by the product and "reports of overcoming incurable diseases are happening every day".
But the FSA has warned people not to consume the product.
It said: "MMS is a 28% sodium chlorite solution which is equivalent to industrial-strength bleach.
"When taken as directed it could cause severe nausea, vomiting and diarrhoea, potentially leading to dehydration and reduced blood pressure.
"If the solution is diluted less than instructed, it could cause damage to the gut and red blood cells, potentially resulting in respiratory failure."
Mr Davies said: "The actions of Rhys have been very positive in bringing this to the attention of the authorities.
"The Food Standards Agency has published a warning statement alerting members of the public to the dangers of consuming MMS.
"This warning was sent to the European Commission and circulated to all member states so that they could take action.
"The agency is also identifying UK-based internet retailers and is working with trading standards departments to ensure the product is not available."
Rhys has been invited to a two-day "critical thinking" conference in London this weekend alongside guests including Stephen Fry and Richard Dawkins.
He said he would be meeting people there who have helped him with the campaign.
"I was just warning about the Miracle Mineral Solution. I think it is worrying that it is effectively industrial-strength bleach.
"The people who are taking it are told the vomiting, diarrhoea and nausea are signs that it is working."
Related Internet Links
The BBC is not responsible for the content of external sites.