Elan Closs Stephens named as new BBC Trustee for Wales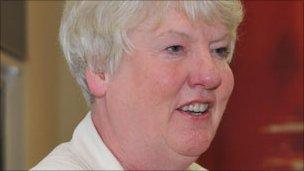 The Culture Secretary Jeremy Hunt has named the former chair of broadcaster S4C as the new BBC Trustee for Wales.
Elan Closs Stephens will take up the post on November 1 for four years.
She takes over from the current holder, Janet Lewis-Jones who announced she would be standing down earlier this year.
Her successor is professor of communications and creative industries at Aberystwyth University, and became a CBE in 2001.
"I am delighted to have been given the opportunity to help get the best out of the BBC for the people of Wales," said Prof Stephens.
"The BBC holds great public affection in Wales. It has helped strengthen Wales' national identity. Over the years it has provided information, entertainment and analysis. It has also provided opportunities for economic growth.
"It will be my job as part of the Trust to support, maintain and grow the BBC's contribution to Wales."
Welcoming the appointment, the chairman of the BBC Trust, Sir Michael Lyons said: "Elan will be a huge asset to the Trust, to the BBC and to licence fee payers in Wales.
"She has a wealth of experience in media and the creative industries and in providing strategic leadership to cultural bodies. I am very pleased to welcome her to the board."
The BBC Trust is responsible for representing the interests of licence fee payers, and overseeing the work of the BBC's executive.
Announcing the appointment on Thursday, the UK Culture Secretary Jeremy Hunt added: "I am pleased to welcome Elan Closs Stephens to the BBC Trust.
"Her extensive experience, not just in television but across the creative industries and arts sectors will be invaluable in today's rapidly changing media landscape."
As well as holding the post of chair of the board of S4C between 1998-2006, Prof Stephens has also been a governor of the British Film Institute (BFI), and is non-executive director of the assembly government's Strategic Delivery and Performance Board.
Her appointment as the BBC Trustee for Wales will run until 31 October 2014, and attracts a remuneration package of £37,660 a year.
Related Internet Links
The BBC is not responsible for the content of external sites.