Lady of the Lamp statue to return to Tonypandy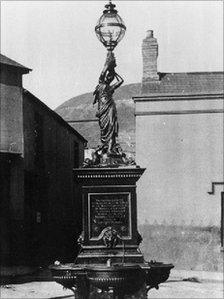 A statue which was once a famous valleys landmark and has been in storage for several years is being restored to its former glory.
The Lady with the Lamp monument in Tonypandy, Rhondda Cynon Taf, has graced various sites in the town.
A memorial to mine-owner Archibald Hood, it was once knocked down by a car.
Work is under way to reinstate it in time for the centenary of the famous Tonypandy Riots on 7 November.
The statue was first erected in 1909 outside the Pandy Inn as a mark of respect to Hood, who was the Scottish owner and founder of Cambrian Collieries in Llwynypia.
It was paid for through donations from the workmen at Llwynypia Colliery and represented an Egyptian water carrier supporting a gas lamp.
Beloved as a popular landmark, it was hit by a car in 1965 and removed from its plinth before being reinstated outside the firm of W Ribbons, until the factory closed.
It then found a home behind the War Memorial in Dunraven Street but, in 1993, was taken down to be repaired and has been in storage ever since.
Although its drinking troughs once quenched the thirst of work horses, all that now remains is the lady herself.
The project to reinstate the statue in a specially designed community garden in De Winton Street, outside the old Town Hall, has been led by the Rhondda Civic Society.
The aim is to have it standing once more by the time one of Wales' most significant industrial disputes is remembered.
The Tonypandy Riots of 1910 involved striking miners, who were fighting for a living wage.
Hundreds were injured and one miner was killed, after troops were sent in by then Home Secretary Winston Churchill.
David Lewis, chairman of Rhondda Civic Society, said: "For some years, older members of the community in particular have been asking if the statue can be restored.
"It has not been possible to restore it as it originally stood because the horse troughs and fountain disappeared long ago, but the figure of the lady will at last be back in Tonypandy."
Llwynypia Primary School pupils have worked with community artist Louise Shenstone to etch animal patterns in the statue's stonework.
Rhondda Cynon Taf Council is project-managing the installation and its community arts team helped design the plinth and surrounds for the statue.
Council leader eader Russell Roberts said: "We are particularly pleased that the unveiling of the statue will take place on 7 November as part of the Tonypandy Riots centenary events.
"We pay tribute to our community partners, the Civic Trust Wales and Rhondda Civic Society in helping realise this ambition."
The march will be filmed for a BBC One Wales documentary to be broadcast in November.
Related Internet Links
The BBC is not responsible for the content of external sites.