Carwyn Jones hits out at Cabinet Office quango 'muddle'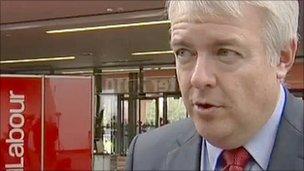 The first minister has attacked the Cabinet Office for not consulting him on the impact of abolishing almost 200 UK quangos and merging others.
Carwyn Jones said the cuts would have a major impact on publicly-funded bodies in Wales.
Mr Jones said it was "par for the course" that he had not been consulted before Thursday's announcement.
The Cabinet Office said it had engaged devolved administrations in discussions throughout the review process.
Speaking on BBC Radio Wales Mr Jones described Thursday's announcement of the abolition of 192 public bodies and the merging of 118 others, as "muddled".
The first minister said the Cabinet Office had not thought very carefully about the effect of its actions on Wales.
"Some of these bodies are England and Wales bodies," he said.
"Now, clearly, if you get rid of them there is an effect on what they do in Wales. What happens next?
"Does that mean we have to set up our own body to do it? Or do we take over the functions of the body being abolished?
"All these things should have been thought through beforehand, rather than making the announcement and then trying to work out what this means for Wales."
Mr Jones said he was not clear how organisations that carried out functions in Wales, such as the Youth Justice Board and Consumer Focus, would operate in future.
He added: "If you look at heritage and sport, the English bodies are being merged into the UK bodies.
"Now does that mean, when it comes to Heritage Lottery funding, that because the English body is the same as the UK body people in England are going to be at an advantage compared to Wales and Scotland?
Mr Jones said that as Wales had been through a similar process of abolishing quangos three or four years ago he understood the principle behind it.
But he commented: "The whole thing at the moment is a bit of a muddle."
Asked if he thought it was wrong for the first minister of Wales not to have been consulted, Mr Jones replied: "It's par for the course, I'm afraid. We saw the same with the passport office in Newport.
"It's difficult to understand why. Whether it's deliberate, or whether it's simply the case that they see these primarily Whitehall-based bodies that happen to have an existence in Wales, and they don't think about it.
"But either way it's not good news with regard to the respect agenda that the UK government is keen to promote."
Mr Jones said he had made it clear in a letter to Cabinet Office Minister Francis Maude that Wales needed "a heads-up on these things".
He had also stressed that far more work needed to be done to establish what happened next to organisations that operate in Wales as well as in England.
Responding to Mr Jones's comments, a Cabinet Office spokesman said: "The Cabinet Office and other departments have engaged devolved administrations in discussions through the review process.
"Ministers have been corresponding with their devolved counterparts, and Wales, Scotland and Northern Ireland have had the opportunity to feed back into the initial and final proposals.
"Devolution is a key consideration for the reform programme and for the Public Bodies bill.
"The Cabinet Office is supporting departments in discussion with territorial offices and devolved administrations throughout the review process."
Related Internet Links
The BBC is not responsible for the content of external sites.