Birthday party for 'dignified' 109-year-old woman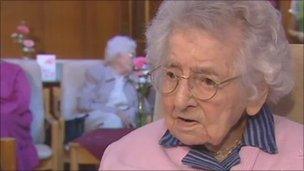 One of Wales' oldest citizens, who was born in the year that Queen Victoria died, is celebrating her 109th birthday with a party at her care home.
Esther Vickery, who lives at the Ty-Waunarlwydd home in Swansea, puts her long life down to never smoking or drinking alcohol.
She spent over 80 years in agriculture after being born and raised on a farm.
Her sister Ivora Beynon, who also lives at the home, and her son Len, 80, will attend the party.
Mrs Vickery, who has six grandchildren and 14 great-grandchildren, said her longevity was also down to her faith in God and attending chapel.
"It's plenty of hard work and no drink. But people that drink live a good long life too so it can't condemn them!" she said.
"The chapel was very important to me until my legs went and I couldn't work.
"There's no chapel [services] on television now that I can watch either."
She lives close to Sardis Chapel where she has worshipped for many years.
Mrs Vickery and her late husband Tom, a farmer, started Pwll-y-Whyaid farm, which is now part of the Portmead and Blaenymaes estates.
The family moved to Papermill Farm in Ystrad Road in the 1950s.
She was widowed in 1964 and in 1986 she moved to a house in Waunarlwydd.
She moved into a care home after injuries sustained in a fall limited her mobility.
Jane Thomas, the officer in charge of the home, said: "Mrs Vickery is a dignified and intelligent lady who converses about her life clearly.
"It is a pleasure to care for her, and she is very much respected by the staff and residents of Ty-Waunarlwydd.
"She still remains quite independent and active."
Her son Len will travel to the party from his home in Welshpool, Powys.
Her eldest son Ron died last year and her third son Alwyn died eight years ago.
Mrs Beynon has kept diaries throughout her life and she says her main interest is her family.