S4C cuts 'jeopardise' language relations in Wales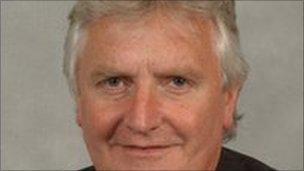 S4C cuts could endanger the relationship between Welsh and non-Welsh speakers, the Heritage Minister has told BBC Wales.
Alun Ffred Jones said he was disappointed by the decision to change the channel's funding arrangements.
The Welsh-language broadcaster receives £100m a year from the UK government but faces cuts of 20 to 30%.
Mr Jones has written to Culture Secretary Jeremy Hunt to emphasise the importance of S4C and the language.
He said: "This is the only Welsh service we have.
"We need to make sure that the budget - whatever it will be - is sufficient to provide an appropriate service in Welsh.
"The government in Westminster is jeopardising the good relationship between the Welsh speakers and non Welsh speakers with these cuts."
Mr Jones said that there should be a comprehensive discussion in Wales and beyond to prepare for a sustainable future for the channel.
The Welsh language broadcaster, established in 1982, currently receives just under £100m a year from the UK Department of Culture but with public sector cutbacks the channel has been told this level of grant is no longer sustainable.
The UK government has said it would break the inflation link to S4C funding increases, which insiders say could lead to cuts between 20-30%.
Welsh politicians from all parties have campaigned for its budget to be maintained but cuts of a quarter or more of its grant seem inevitable.
The UK government asked S4C to model what would happen to its services under cutbacks of 25% and 40%.
Channel bosses said a cut of a quarter would mean a reduction in spending on content from £83m this year to £62m by 2014.
In a report to the the UK goverment, the S4C Authority said such a cut would "strike at the heart of the programme service itself".
Broadcasting hours would need to be cut and its ability to bid for sports rights, and other original content fwould be sharply reduced.
Cuts cuts of 40% would put the very future of the channel at risk, S4C bosses said.
The report said: "Cuts of up to 40% would deliver a totally different type of service.
"Instead of a comprehensive public service broadcaster, the output would be severely limited in terms of range of programmes, schedule and platforms.
"This would have a disproportionate effect on our current audience, and our ability to attract new audiences. Such a radical reduction would create a high level of risk to the service and call into question the existence of the institution itself."
Meanwhile, BBC Wales and S4C have announced that they are to consider collaborating is some areas.
Long term options, including moving both broadcasters into a single media centre, are to be considered.
Related Internet Links
The BBC is not responsible for the content of external sites.