Wife 'shot husband before taking overdose'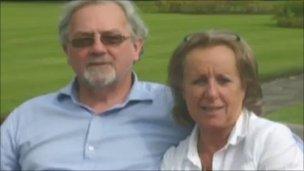 A woman shot her husband in his sleep at their Flintshire home before taking an overdose herself, an inquest has heard.
The coroner recorded a verdict of unlawful killing on Paul Laithwaite, 64, and ruled that Jean Laithwaite, 65, had taken her own life.
The inquest heard she had been struggling to come to terms with the death of her father in 2008.
Police found a note at their Sealand home with Mrs Laithwaite's name on it.
Found inside a bible, it said: "My soul is full of sorrow to the point of death" and was signed "Jean".
Two of their three sons discovered what had happened when they went to the house after their calls went unanswered.
Mr Laithwaite, who built a fortune in the property market, and his wife had been married for more than 40 years.
North East Wales coroner John Hughes described it as a mind-numbing tragedy.
The inquest at Flint heard how Mr Laithwaite had been shot to the head with his own double-barrelled shotgun as he lay asleep in bed.
His wife had then taken a cocktail of prescribed drugs and alcohol in the bath, and had slumped forward in the water, which restricted her air ways.
What caused the tragedy remained a mystery although the inquest heard that Mrs Laithwaite was depressed following the death of her father.
Parish priest the Reverend Cannon Tudor Griffiths told the hearing the death had left them both feeling depressed.
He said Mrs Laithwaite was close to her father and struggled to come to terms with his death at the age of 98.
"She had struggled with her faith due to the loss of her daughter-in-law of cancer at a young age," he said.
"But after her father died she asked to be confirmed and both became an important part of our small congregation.
"I was deeply saddened and shocked by their deaths. It was not an outcome that I would have expected."
Mr Laithwaite's best friend, Richard Coe, of Anglesey, said he and his wife had visited the day before they were found dead.
He said he recognised they were both depressed and made arrangements for the two couples to see each other more frequently.
Medical history provided to the hearing by the couple's GPs showed Mrs Laithwaite had a history of using anti-depressants and her husband had recently suffered diabetes-related blackouts and a diabetic coma.
"They were both very close and did everything together," said Mr Coe.
"Like all marriages it had its ups and downs but it was a good, solid marriage."
Mrs Laithwaite was active in the Lady Taverners sporting charity and the couple were well known and respected in their Church in Wales parish, the hearing heard.
They also played a major part in the running of a business owned by their sons, 40-year-old twins Jeremy and Quentin.
Their eldest son, Marcus, 41, was described to the court as a successful businessman based in Australia.
After the hearing, a family statement read by Det Insp Alun Oldfield said: "Paul and Jean, from the time they first met, were inseparable.
"The family takes comfort in knowing that they continue to be together as they would have wished."