Melingriffith water pump restored to former glory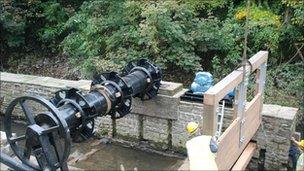 A 200-year old water pump has been restored to its former glory.
The Melingriffith water pump in Whitchurch, Cardiff, is one of the last remaining relics of the Glamorganshire canal - the link between Merthyr Tydfil and Cardiff's docks in the 19th Century.
The refurbished pump will be reassembled over the next two weeks.
Cardiff council's member for leisure Nigel Howells called it a "great link to Cardiff's industrial past".
The Mellingriffith water pump used to service the former Glamorganshire Canal and Melingriffith Tin Plate Works and is one of the earliest works of its kind.
For 135 years the pump ensured there was a continuous water supply principally for the canal.
When this part of the canal closed in 1942 it was no longer needed and the pump became redundant.
The pump was carefully dismantled earlier this year so that its timber and metalwork could be refurbished.
It was lifted into place on Thursday with larger and heavier components of the pump including the rocker beams and frame lifted into position by a crane.
The restoration project cost around £100,000 and was funded by Cardiff Council and Welsh heritage group Cadw and supported by community group Friends of Melingriffith Water Pump.
Councillor Howells said: "I am delighted to see work progressing on the Melingriffith pump restoration.
"The pump helps to mark a time in history and continue to showcase the industrial legacy of the city."
Heritage Minister Alun Ffred Jones, said: "Our industrial legacy is a key component of the rich and diverse heritage of Wales and it is vitally important that it should be protected, preserved and promoted for the benefit of present and future generations."
Related Internet Links
The BBC is not responsible for the content of external sites.