Retired referee features in Match of the Day spot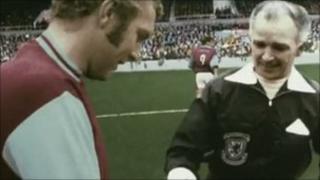 A long-retired referee was stunned to see himself back on the pitch thanks to Match of the Day's new opening credits.
Iorwerth Jones, 83, is featured in TV's popular football show 40 years after his last blast on the whistle.
The 1969 clip shows him shaking hands with World Cup winner Bobby Moore after giving him a coin to toss.
Mr Jones, of Trelewis, near Methyr Tydfil, said: "Not many of my friends realise it is me!"
The footage comes from BBC archives of a West Ham Utd v Manchester Utd match in March 1969.
Mr Jones said: "I couldn't believe my eyes - I never thought I'd be back on the telly again.
"They were great times and it was marvellous to spend my Saturday afternoons trying to keep control of players like George Best and Denis Law.
"I still watch Match of the Day every week so you could have knocked me down with a feather when I popped up at the start of the show."
He remembers the day he stood on the centre spot with West Ham captain Bobby Moore in a game which ended 0-0.
Also on the team-sheet that day was the legendary George Best at his peak.
Mr Jones hung up his boots in 1975 but has fond memories of being the man in the middle during the the old First Division.
He was named one of the top 30 referees in the world and took charge of international matches all over the globe.
Mr Jones was known as the quiet man of the game because he never shouted at players.
And for some of his career there were no red or yellow cards to show to unsporting players.
He said: "Football back then had more of a family atmosphere - now there is a lack of respect in the game just as there is in society generally.
"I'm still a big fan but I'm glad I was a referee in those days and not now.
"It's funny being in the spotlight again after so many years - not many of my friends realise it is me on the programme."
The retired referee, married to wife Margaret for 53 years, now spends his time carving Welsh love spoons, playing the organ and watching Match of the Day on Saturday nights.