Valley's seat for trainee teen plumber, Luke Bouchard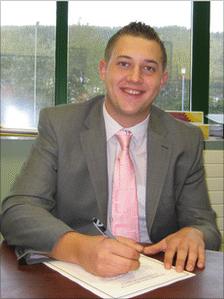 A trainee plumber from the Rhondda has become one of the youngest county councillors in Britain at the age of 19.
Luke Bouchard fought the Treherbert by-election for Labour - pipping Plaid Cymru to the winning post by just 28 votes.
His party believe he is now the youngest councillor in Wales.
"It's a bit surreal to be honest," confessed the newest member of Rhondda Cynon Taff council.
"I'm still on a high - it's only been less than 24 hours since being elected."
The teenager found himself in the frontline of community politics after a by-election was called following the decision by the former Plaid Cymru councillor in Treherbert to stand down.
The young councillor said he had already agreed to put his name forward to fight the council elections in 18 months time, but then had a surprise phone call about the by-election.
"My agent rang and asked if I wanted to put my name forward - and I thought 'Yes - it's something I want to do'," he said.
"I've always been interested in politics, more the local issues and what is happening here in Treherbert.
"I had the feeling that more could be done here - that I could make a difference."
He said many of his friends did not take part in politics, and were surprised by his decision to stand.
"A lot of them don't even vote - they found it a bit strange," he added.
"But, I feel that if you want to make a difference you can't just sit back and let things run their course. You have got to stand up and be heard."
He will now take his place in the council chamber for his first meeting of the body on 3 November.
"I'm looking forward to getting on with it," he added.
Related Internet Links
The BBC is not responsible for the content of external sites.