North Wales maternity review to be extended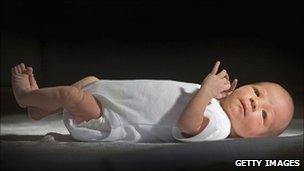 A review into maternity services at north Wales hospitals will be extended, says the health board responsible.
The Betsi Cadwaladr University Health Board said it wanted more time to hold meetings with doctors, charities and local authorities.
Officials stress no decisions or recommendations have yet been made on four possible options.
But the review has prompted some people to set up petitions to protect services in their area.
The health board's options cover Glan Clwyd hospital in Denbighshire, Wrexham's Maelor hospital and Gwynedd hospital in Bangor.
Proposals at the moment are considering downgrading acute maternity services, including special care baby units, at one of the region's hospitals and centralising specialist care.
Children's services are also under the spotlight, with the possibility of centralising 24-hour care at Glan Clwyd, and offering only paediatric day care in Wrexham and Bangor.
The BCUH board has already held two meetings with key stakeholders over the last two months.
The health board said it wanted to "ensure all available evidence and viewpoints are considered before recommendations on future services are made".
Dr Brendan Harrington, consultant paediatrician for the BCUH board said: "We know that people have strong views on these issues and by allowing more time we can ensure that all of these are considered as part of the review.
"The reason that all options need to be discussed with a wide range of stakeholders is to identify the challenges they pose.
"We now need to focus on finding solutions to these challenges if we are to provide safe, high quality services for our patients now and in the future."
Options being considered are:
Retain the current three hospital maternity units. The health board says this would need "a different service model" to provide maternity and paediatric services at all three hospital.
Maternity and children units at Gwynedd and Glan Clwyd hospitals, supported by midwife led units.
Maternity and children units at Gwynedd and Maelor hospitals, supported by midwife led units.
Central children's unit at Glan Clwyd with paediatric day units at Gwynedd and Maelor hospitals, along with a two or three unit maternity service model.
Mr Simon Leeson, consultant obstetrician and acting chief of staff for women's services added: "Based on the responses we have received, we need to review the evidence for change in greater detail.
"We will then be able to consider how the options could work in practice. We welcome all comments and suggestions and the more people we can engage in this process, the better the service will be in the future."
Related Internet Links
The BBC is not responsible for the content of external sites.