Ryder Cup fans hit by rain offered DVD and tickets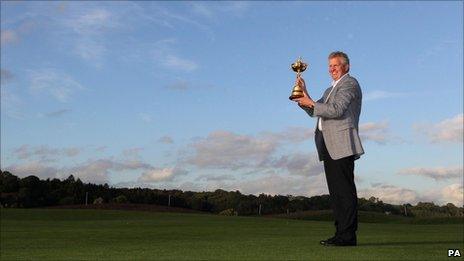 Ryder Cup fans who missed out on golf action at the Celtic Manor because of rain are being offered a DVD of the matches and tickets to a European game.
Thousands of visitors to the tournament were left disappointed on the Friday as play was badly hit by the weather.
Heavy rain on the Sunday meant for the first time in the cup's history, play carried on to a fourth day.
But only those with Sunday tickets could get into the site.
Richard Hills, the European Ryder Cup Director, said: "Ryder Cup Europe appreciates the patience and consideration shown by all spectators on the Friday of the 2010 Ryder Cup when a total of 7 hours 18 minutes play was lost due to the appalling weather."
Ryder Cup officials said in addition to a DVD of the tournament, those ticket holders hit by the weather will also receive two tickets to a selection of European Tour events next year.
Matches on offer will include the BMW PGA Championship at Wentworth Club and The Celtic Manor Wales Open.
The offer is open to spectators who had day tickets valid for Friday, October 1, or series 2-day tickets for the Thursday and Friday.
Mr Hills added: "We would like to pay tribute to the loyalty of all our fans who came in their tens of thousands to The 2010 Ryder Cup and we hope this gesture for those seriously disadvantaged by the exceptional conditions on the Friday goes some way to offering them the recompense we feel they earned through their tremendous understanding and tolerance."
May 5-8 The Open de España, Spain
May 26-29 The BMW PGA Championship, England
June 2-5 The Celtic Manor Wales Open, Wales
June 9-12 The BMW Italian Open, Italy
June 23-26 The BMW International Open, Germany
July 7-10 The Barclays Scottish Open, Scotland
July 21-24 The Nordea Scandinavian Masters, Sweden
July 28 - 31 The 3 Irish Open, Ireland
All Ticket Holders wishing to take up these offers need to register their interest through www.rydercup.com.