Wales' new national museum head sets out priorities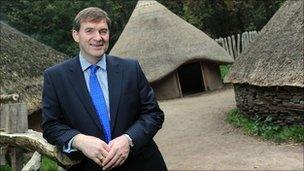 The new head of the National Museum Wales has started in his latest role, pledging to make developments at St Fagans and in Cardiff his priority.
David Anderson took over as director general last week, coming from London's Victoria and Albert Museum.
He joins the body as it pushes to complete moves establishing St Fagans, outside of Cardiff, as the National History Museum for Wales.
Work is also underway in Cardiff on the National Museum of Art for Wales.
The project involves conversion of the first floor of the National Museum, Cardiff, while the ground floor of the domed buildings in the city's civic centre are set to be designated as Wales' Natural History Museum.
Mr Anderson has already been to meet members of his team at St Fagans, which is ranked as Wales' most popular visitor attraction.
"I am very pleased to have the opportunity to lead such a highly regarded institution, which is at the forefront in terms of its collections, research and public programmes not only in Wales but internationally," said Mr Anderson.
"St Fagans is a much loved national centre for understanding the culture and history of Wales, with staff who care passionately about sharing this with its visitors."
The museum, which is home to a painstakingly restored building stretching over 1,500 years of Welsh history, is hoping to develop plans that would see introduce a national archaeology collection.
The project is part of a 10-year plan, costing £20m.
"Progressing the St Fagans: National History Museum re-development project will be a priority for me as well as affirming Amgueddfa Cymru as a contemporary resource for Wales," added Mr Anderson.
"The National Museums are here to serve the people of Wales and developing cultural partnerships is a way of delivering this vision successfully. This approach is of even greater importance in light of the country's current financial situation."
On Monday, the new director general will help launch the National Museum Wales' document "Inspiring Wales" at the Senedd, setting out what it describes as its vision "to become a world-class museum of learning".
As the director general, Mr Anderson not only oversees the work in Cardiff and at St Fagans, but also at the museum's other sites across Wales.
Those include the Big Pit: The National Coal Museum at Blaenavon, the National Roman Legion Museum at Caerleon, the National Wool Museum at Dre-Fach Felindre, the National Waterfront Museum at Swansea, and the National Slate Museum at Llanberis in Gwynedd.
Related Internet Links
The BBC is not responsible for the content of external sites.