Wylfa among locations chosen for new nuclear stations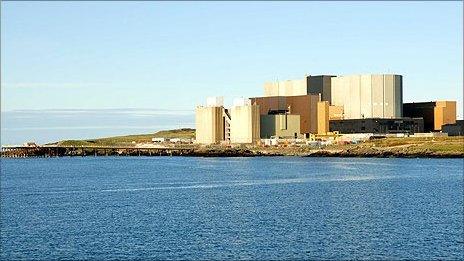 Wylfa on Anglesey has been announced as one of the preferred locations for a new generation of nuclear power stations.
If given the go-ahead, a plant would be built nearby to replace the existing Wylfa station, due to be decommissioned in 2012.
UK Energy Secretary Chris Huhne announced eight UK locations as suitable for nuclear plants from 2025.
He said the UK urgently needed "new and diverse energy sources".
Developer Horizon Nuclear Power has previously said it hopes to lodge a planning application for the new Wylfa plant by the end of 2011.
The developer said a new station could deliver up to 800 high quality permanent jobs, rising to 1,000 during maintenance and up to 5,000 jobs during construction.
Last week, the life of the current plant - which had been due to stop production later this year - was extended by another two years.
Mr Huhne said: "I'm fed up with the stand-off between advocates of renewables and of nuclear which means we have neither.
"We urgently need investment in new and diverse energy sources to power the UK."
He said the UK needed a mix of renewables, new nuclear and fossil fuel energy as "a large slice of our current generating capacity shuts down".
Speaking on Monday he added: "Today we are setting out our energy need which will help guide the planning process, so that if sound proposals come forward in sensible places, they will not face unnecessary hold-ups.
"And I am making clear that new nuclear will be free to contribute as much as possible with the onus on developers to pay for the clean-up".
The other UK locations earmarked for nuclear power stations are Bradwell, Essex; Hartlepool, Tees; Heysham, Lancashire; Hinkley Point, Somerset; Oldbury, Gloucestershire; Sellafield, Cumbria; and Sizewell, Suffolk.
Two sites in Cumbria and one site in Kent were turned down.
Director of Friends of the Earth Cymru, Gordon James, said: "Building a large nuclear power station at Wylfa on Anglesey would do nothing to address the challenge of climate change.
"Instead it would be a dangerous distraction, diverting political attention and scarce resources from better solutions.
"Concentrating our efforts on energy efficiency and renewable energy could tackle our rising emissions and energy security sooner and cheaper."
Secretary of State for Wales Cheryl Gillan welcomed the inclusion of Wylfa on the shortlist.
She said: "Generating power for almost 40 years, Wylfa has a great proven track record.
"Its inclusion on the list of potential sites for the new generation of nuclear reactors offers great hope that electricity production will continue on Anglesey for many years to come."
Related Internet Links
The BBC is not responsible for the content of external sites.