Spending Review will be felt for 'years to come'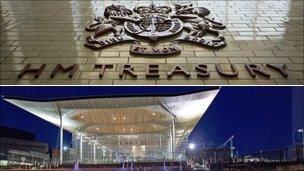 The threat of public spending cuts has been the dominant theme of Welsh politics for the best part of a year, through the spring general election and into the run up to the Spending Review.
The predictions for the assembly government's budget ranged from the grim to the apocalyptic.
Left in the dark by the Treasury, Welsh ministers were working on assumptions that their budget would be cut by just over 3% a year for the next four years in cash terms.
As the dust settles on the Chancellor's statement, it appears that the assembly government's block grant has emerged in somewhat better shape compared with many other areas of the public sector, protected largely because of more generous settlements for health and education in England.
It's still facing a very difficult four years ahead however. In terms of its revenue, or day-to-day funding, the amount it gets will actually rise over the coming period, in cash terms, from £13.3bn to £13.5bn.
However, inflation will eat away at this, forcing ministers to find savings across the board to make ends meet.
In terms of its capital - or infrastructure - budget, the situation is much more severe.
It will fall from its current level of £1.7bn to £1.1bn in 2014.
This will put plans for building new schools, hospitals and roads under real pressure.
There's already a dispute between the Treasury and the assembly government about exactly how the figures are calculated - ministers in Cardiff Bay suggest the Treasury has started its calculations from an artificially low baseline and has not taken into account the impact of inflation.
But in the last resort, it's the Treasury's review and it calls the shots - "twas ever thus", one insider sighed.
There is mystification, too, about why Wales appears to have fared worse than both Scotland and Northern Ireland, despite broadly similar responsibilities and an identical funding formula.
But in terms of the wider impact on Wales, the cuts to the welfare budget could end up having a greater influence on the economy than the assembly government's settlement.
The scale of the planned reduction in benefit spending will potentially take hundreds of millions of pounds out of some of Wales' poorest communities.
The impact of the Spending Review will be felt for many years to come, well after the political wrangling has ended.