Assembly inquiry into north Wales health reviews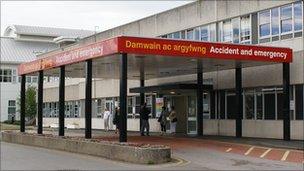 A review of health services in north Wales is facing an assembly inquiry, following claims of "cherry-picking" of those consulted.
The allegation has been made by the Clwyd West AM, Darren Millar.
He chairs the health, wellbeing and local government committee, which will hold the inquiry into the way NHS reviews are held.
The Betsi Cadwaladr University Health Board said it refuted the claim.
The health board insisted that its current review of services had invited a wide range of people to special meetings to discuss possible changes to areas such as maternity and paediatric care.
But Mr Millar said concerns have been raised with him about who had, and who had not been invited to take part in stakeholder meetings to discuss the programme of reviews.
The health board is reviewing its provision of maternity, paediatric and surgery services.
"This is an important issue and the inquiry comes amid wide-ranging public concern about the future of services in north Wales," said Mr Millar.
"Among other things, we will be looking at how these reviews are carried out, how stakeholders are engaged and consulted and the extent to which such views feed into future recommendations."
Mr Millar admitted that he was wearing "two-hats" as far as the inquiry was concerned, both as the chair of the assembly committee, but also as local assembly member concerned by the review options.
He has warned that changes to maternity services in north Wales could have life-threatening impacts for the public.
"The maternity services could be downgraded to midwife led units. The consultants tell me that will mean that lives will be lost, as patients are transported up to 45 minutes away for emergency treatment such as Caesarean sections," he argued.
The BCU health board has set out options that consider downgrading acute maternity services, including special care baby units, at one of the region's three main hospitals and centralising specialist care.
Children's services are also under the spotlight, with the possibility of centralising 24-hour care at Glan Clwyd hospital , and offering only paediatric day care at Wrexham and Bangor.
Last week, the health board announced that it was extending the period of the review for more views from doctors, charities and local authorities.
It also stressed that no decisions or recommendations have yet been made.
However, Mr Millar questioned the process, which has included holding two meetings with 'stakeholder' groups.
"There looks as though there has been cherry picking of those invited to those consultations," he told BBC Wales.
"They have had stakeholder meetings where there they have invited certain people to participate.
He said that was "very different" from a public meeting.
Health Minister Edwina Hart will meet hospital staff in north Wales in the near future to discuss their concerns about the health reviews.
Responding to the inquiry announcement, a spokesperson for the BCU health board said: "We are keen to gather as many views as possible in this process.
"The people we have invited to the events we have held come from a wide and varied background."
The board said it had extended the maternity review to reflect the concerns of some clinicians who were unable to attend stakeholder meetings.
The health board said it would discuss with community health councils on how the public will be consulted, if stakeholders agree that there should be significant changes to services at any of the hospital sites.
Related Internet Links
The BBC is not responsible for the content of external sites.