Jayne Sullivan's bid to be Blaenau Gwent AM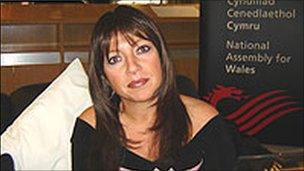 A woman who staged a sit-in at the assembly to campaign for the introduction of a breast cancer drug is standing to be an assembly member.
Jayne Sullivan, 50, is to stand in Blaenau Gwent, when the current AM, Trish Law, an Independent, stands down.
Ms Sullivan was prescribed Herceptin for her breast cancer but staged her 2006 protest because women elsewhere were not getting it.
Her election bid is backed by Ms Law, who succeeded her late husband, Peter.
The next assembly election will take place in May next year.
Ms Sullivan, who was born and brought up in Merthyr Tydfil, said: "Like Trish I am a valleys girl and care passionately about the plight of people in our valleys.
"Successive governments have failed to address the deep-rooted problems that exist.
"There are now 43 unemployed people chasing every job that becomes available. And there remain immeasurable health and housing issues."
Ms Sullivan carried out a seven-day sit-in at the foyer of the former main assembly building, Crickhowell House, in 2006.
The National Institute for Health and Clinical Excellence (NICE) later approved Herceptin's use in the early stages of breast cancer.
She attributed the development to public and media pressure.
Ms Sullivan also became involved in campaigning for other cancer drugs.
Ms Law said: "Jayne became a household name when in 2006 she staged a sit-in and sleep-in in the assembly to highlight the postcode lottery of the cancer drug Herceptin.
"That and subsequent health campaigns have been hugely successful and I can't think of a more appropriate or formidable person to carry the Independent banner into the election on 5 May next year."
Labour has chosen Alun Davies, AM for Mid and West Wales, to contest the Blaenau Gwent seat.
No other party has selected their candidate yet.