Heritage element in Llanelli library refurbishment work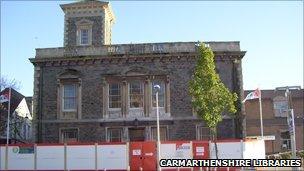 One of Llanelli's oldest buildings, the Athenaeum, is to have protection work during a £3.5m library refurbishment.
Carmarthenshire council has been granted listed building consent for the 18 month project, which began this month.
It comes as the adjacent Llanelly House has a £3.4m Heritage Lottery Fund refurbishment.
The side-by-side projects aimed to create a "'cultural gateway" to the town, the council said.
The library projec will see the building house a reference and children's library, an arts/crafts exhibition area and video conferencing/training room.
It will also create a "substantial atrium," according to the local authority.
The refurbishment will include protecting and preserving the older part of the building.
Previous work in the the newer part of the library building has provided a new adult lending library, a CD/DVD lending area and a 27-computer IT suite.
The Grade 2 listed Athenaeum was built in the 1850s with public subscriptions on the site of a former mansion where Llanelli Reading Society had been holding meetings for more than half a century.
Coun Gwynne Wooldridge, the executive board member for education and children's services, said: "The vision is to integrate the older part of the building with the newer elements, in order to provide one, seamless, modern, state-of-the-art, public library service; to provide an iconic building, and to reinforce the library as a worthy regional headquarters for the area.
"It will also help develop the library as a community, learning, and cultural hub for the town and surrounding area."
The Georgian-era Llanelly House, completed in 1714, is one Wales' oldest town houses.
In 2007, the Grade 1 listed building was the Welsh finalist in the original series of BBC Two's Restoration programme, but lost to Manchester's Victoria Baths in a public vote for the £3.4m first prize.
Last year it's future was secured with a £3.4m Heritage Lottery Fund (HLF) grant.
Carmarthenshire council said the two buildings, and the parish church, are the oldest in Llanelli.
Related Internet Links
The BBC is not responsible for the content of external sites.