Welsh puppy farms face new welfare and practice rules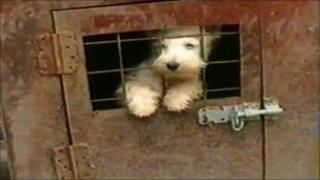 The assembly government has unveiled proposals for new rules to tackle bad breeding practices in puppy farms.
It would see compulsory microchipping of dogs in licensed breeding premises and limit one person to being in charge of no more than 20 animals.
The behaviour and socialisation of animals would be taken into account as part of the licensing of dog breeders.
The proposed regulations would will replace the Breeding of Dogs Act 1973 in Wales.
The move has been welcomed by the British Veterinary Association and the British Small Animal Veterinary Association, who said that the rest of the UK is now lagging behind Wales.
Rural Affairs Minister, Elin Jones said: "While the breeding of dogs for commercial gain is a legitimate business, the welfare requirements of the breeding dogs and their offspring must have paramount importance."
She said the proposals were based on reports from Pembrokeshire, Ceredigion and Carmarthenshire councils, as well as other written and video reports, suggesting that "some dog breeders were keeping their animals in cramped conditions with little or no provision for their behavioural or environmental needs".
She told BBC Wales: "We want clear guidance given to local authorities on what licensing should be about so when they come across bad practice and non-comforming with requirements, they are easily able to take prosecutions to stamp out bad practice.
'Loving homes'
"It's important to have clarity through this new legislation so everybody, especially dog breeders, knows what society now expects of them to ensure that those puppies that are bred to be sold onto loving homes are kept in the best possible circumstances and given the best possible start of life.
"How they are treated in the first six weeks of life will affect how they are treated in the rest of their lives."
The Animal Welfare Act 2006 requires that animals should have a suitable environment and diet, the ability to exhibit normal behaviour patterns and be protected from pain, suffering, injury and disease.
RSPCA inspector Richard Abbott said the charity had found dogs in "dark, damp, ammonia-smelling" conditions with "no bedding whatsoever" and with "puppies dead or dying next to them".
Ministers want to force breeders in Wales to microchip their dogs, so buyers can identify new pets and be sure about their health and where they've come from.
Jade Anthony had to return her new puppy Charlie to the breeder.
Within hours of bringing the dog home, it became clear that there was a problem.
She said: "He was just so frightened.
"If you wanted to talk to him, you would have to go on your hands and knees in order for him to come close to you. He was absolutely petrified."
But there is opposition to the Welsh Assembly Government's plans which would also see small breeders with just a few dogs being required to be licensed and face checks.
Terrie Cousins-Brown, a small-scale dog breeder, said: "I think the focus should definitely be on the large-scale puppy farmers and the breeders that are breeding for commercial purposes.
'Welfare'
"They are the ones more likely to cut corners, in terms of profit, and that means possibly cutting welfare standards."
The Chief Veterinary Officer for Wales, Dr Christianne Glossop, has welcomed the proposals.
She said: "These regulations bring the welfare obligations in the Animal Welfare Act into the licensing of dog breeders and fits well with the aspirations of the GB Animal Health and Welfare Strategy."
A 12-week consultation begins on Friday. If approved, the new laws could be in place by March 2011.