Former Radio Wales astrologer Jonathan Dee dies at 53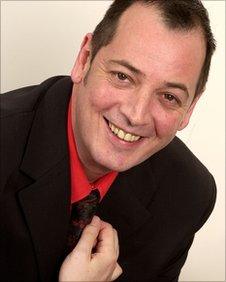 Jonathan Dee, an astrologer and author who appeared regularly on BBC Radio Wales for two decades, has died at 53.
Mr Dee, from Rhondda, was a daily contributor to Roy Noble's radio programme until 2006.
He had been writing since then but continued to contribute to other radio and television programmes.
Mr Dee had suffered a brain haemorrhage. Mr Noble paid tribute to Mr Dee, saying there was much more to him than simply providing horoscopes.
He had written many books about a variety of subjects, including astrology, Egyptian history and tarot cards, said Mr Noble.
"He came in round about 1986 and he came in every day to do the stars but there was more to him than the stars," he said.
"It was his sheer reservoir of knowledge and his way with words and his retentive memory."
Mr Dee had recently done a publishing course at Swansea University and was looking to start a publishing company, added Mr Noble.
Astrologer Russell Grant said: "He tended to have great strength in areas away from astrology such as the tarot.
"He would go into the background, he would go into the real knowledge.
"If he told you something, you would know darn well he hadn't gone on to Wikipedia."
Radio Wales editor Steve Austins said: "Jon was more than an astrologer.
"He was an engaging broadcaster with a gift for a historical fact. He will be missed by many."
Related Internet Links
The BBC is not responsible for the content of external sites.