Andy Rouse tigress photo wins wildlife award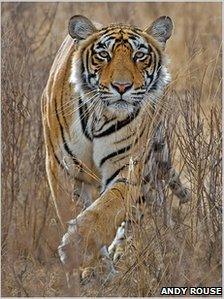 A rare head-on image of a tigress stalking her prey has won a wildlife photographer based in Wales an international photography prize.
Andy Rouse, 45, who lives near Cardiff, took his picture in India moments before she charged a herd of deer.
It won him the Gerald Durrell award for Endangered Wildlife in the Wildlife Photographer of the Year 2010 award.
Judges said: "To photograph head‑on the mesmerizing gaze of an intensely focused hunter is rare."
Mr Rouse beat more than 40,000 entries from professional photographers from around the world in the competition run by BBC Wildlife Magazine and London's Natural History Museum.
It is his eighth consecutive award in the competition in the past six years.
He self-published a book on tigers this year to celebrate the International Year of the Tiger and its profits have contributed more than £6,000 to tiger conservation projects.
He stalked his photographic prey on a recent trip to India's Ranthambore National Park, where he worked in temperatures of up to 37C (100F).
Early on the last drive of his trip, he found himself in a jeep between the tigress and the deer herd.
He said: "She was using the contours of the hill to hunt the deer.
"Tigers never look at you in the eyes. They never stare at you. Tigers are cool, they are not bothered by humans.
"She was walking normally and all of the sudden the deer turned their back, so she began stalking them.
"She put one paw forward at a time, almost feeling the ground each time, almost to make sure there were no twigs that would snap.
"She stood next to the vehicle - used it as a hide, almost. Then she kind of looked round the front of the jeep.
"She carried on stalking them for another 10 minutes and then charged. But she left it a little bit too long. They don't kill all the time. There are too many eyes watching them."
A professional wildlife photographer for 13 years, Mr Rouse said his first photographic award was for a picture of a fox chewing the head of a garden gnome.
He said: "I'm a huge animal lover first and a photographer second. My motive is to love animals."
Since moving to Wales in the past year, he has worked on photographing owls and fresh water otters.
After a recent trip to Alaska, he said he was also planning a book on grizzly bears.
Related Internet Links
The BBC is not responsible for the content of external sites.