Consultation on hospital changes in Cardiff and Vale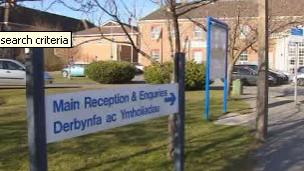 The public are being asked their views about the planned closure of a maternity and a specialist spinal unit in Cardiff.
The Cardiff and Vale University Health Board has launched an eight-week consultation.
It wants to move the Llandough maternity unit to the main city hospital and to end inpatient services at Rookwood Hospital in Llandaff.
The proposals are to shape local health services for many years to come.
Cardiff and Vale UHB has proposed closing the six-bed midwife-led unit Llandough Hospital, which opened in 2005 and where only one baby a day is born on average.
The plans are put forward in its document, Making a difference, by the health board's director of planning, Paul Holland.
The service would transfer to the city's main hospital, which has a larger midwife-led unit as well as a consultant-led service.
The second proposal to relocate neuro, spinal and medical rehabilitation inpatient services, the John Paty Day Hospital, and the Elderly Care Assessment Service (ECAS) from the Rookwood hospital site is linked to the maternity unit changes.
The health board wants to move the neuro and spinal rehabilitation inpatient services from Rookwood into the space made available by the maternity unit leaving Llandough and other changes to the way gynaecological surgical services are delivered.
The other services at Rookwiood be relocated to St David's Hospital in Canton and Cardiff Royal Infirmary (CRI) West Wing under the plans.
"These two proposals are linked because one cannot happen without the other. This is why we are presenting them together in this consultation," said Mr Holland.
"We work closely with Cardiff and Vale Community Health Council, as the local independent health watchdog and they are leading the consultation to ensure that the UHB plans are properly explained and understood, helping residents of Cardiff and the Vale of Glamorgan to give us their informed comments about what the proposals mean for them."
Free public consultation events will be held throughout November across Cardiff and the Vale of Glamorgan.
The consultation will end on 10 December and a decision is expected in January.
Related Internet Links
The BBC is not responsible for the content of external sites.