Caerphilly Council to apologise over abuse case failing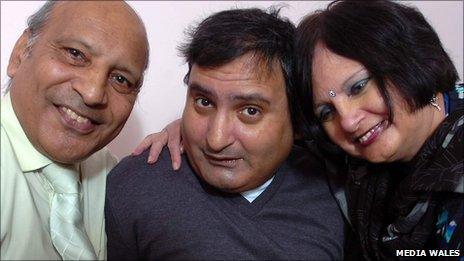 A couple are angry their autistic son spent eight months away from the family home while claims of physical abuse were investigated.
Henry Newbury, 65, and wife Sheila, have been reunited with son Henry, 40, and a council watchdog found "flaws" and delays in the investigation.
Mrs Newbury had been temporarily suspended as a care worker.
The public services ombudsman recommended a case review. Caerphilly Council said it would apologise.
Henry, who has the mental age of a five-year-old, needs round-the-clock care, his father, who works for an accountancy firm, explained.
Henry was placed in care in March 2009 after two allegations of abuse were made by workers at the day centre which he attended, neither of which were proven according to Mr Newbury.
After the second accusation that Henry appeared to have a black eye, the family were rung and told he was going to go to a care home.
Mr Newbury said the family protested their innocence over both accusations, that Henry repeatedly injures himself because of his disability, and that the alleged black eye was caused by an ethnic trait known as "panda" eye caused through a lack of sleep.
"I do not want another family to go through this. I am not blaming the people, of course things have to be investigated, but not in this way and for this length of time.
"How could we explain to our son what was going on? We could not tell him when he could come home. We did not know and we could not lie to him, no parent can lie to their child like that."
During that time Henry Jr's mother Sheila Newbury, 62, a community councillor in Caerphilly, was suspended from her care worker job for six months.
The allegation of physical abuse against a family member was investigated by police who found no case to answer.
Mrs Newbury said: "This ordeal was like losing someone. It was like a bereavement. I grieved for my son every day.
"I became ill because I was so sad. This was a false claim. I am a community councillor and I was worried about the shame. It was like an awfulness. It was like a black cloud hanging over me."
Mr Newbury later complained about the council's response to allegations of abuse.
In particular, he was concerned that Henry was moved to a care home without a court order, about the adequacy and the length of time of the council's Protection of Vulnerable Adults (Pova) investigation.
He was also concerned about the standard of communication with the family, and about the council's response to letters from the family's solicitor and AM.
The public services ombudsman partially upheld the complaints.
His report, seen by the BBC, found both investigations "flawed" in achieving best evidence and that Henry's removal had a "serious impact" on the family.
The ombudsman suggested the family take up the issue of the delay in the inquiry with police, which appears to have been due to an officer on maternity leave, with the case resolved quickly when a new officer took over the case.
But he found communication by social workers with the family "mixed", while Henry's welfare appeared to have been "lost" in the investigation process.
He recommended that the council should apologise to the family for the failings he had identified, and also made some recommendations aimed at improving the council's Pova process.
A Caerphilly Council spokesman said: "The council has been working closely with family... and we acknowledge the timescale to resolve this situation has been protracted.
"It is important to note that ombudsman found we have not discriminated against the family, nor caused undue delays.
"However, as requested by the ombudsman, we will be apologising most sincerely to the family."
Related Internet Links
The BBC is not responsible for the content of external sites.