Two inmates abscond from Prescoed in Monmouthshire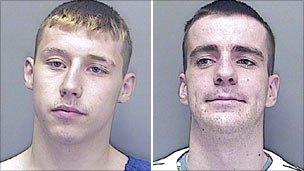 Police are trying to find two 20-year-old prisoners who have absconded from an open prison in Monmouthshire.
George Mark Rees, who is serving a seven year sentence for robbery and Joshua Morris, who was convicted of burglary and jailed for three years, absconded from HMP Prescoed on Sunday.
Officers said neither is a registered sex offender.
Both men have contacts in the Swansea area. Gwent Police has activated its operational plan to find them.
A police spokesperson said the prison was co-operating fully.
It is believed there may be a potential risk to the public due to the fact that the pair are no longer in the custody of the prison service.
Morris is described as about 5ft 11ins tall, of thin build, with brown hair, blue eyes and a tattoo on his wrist.
Rees is about 5ft 7ins s tall of medium to thin build. He has brown hair, blue eyes and tattoos on the back of his neck, right shoulder and chest.
Members of the public are advised not to approach the prisoners and to call Gwent Police on 01633 838111
Related Internet Links
The BBC is not responsible for the content of external sites.