Welsh select committee concern at MP numbers cut impact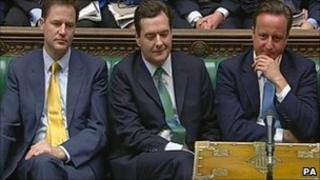 A cut in the number of Welsh MPs by a quarter would make a "profound change" to the way Wales is represented in parliament, says a Commons report.
A bill could see the number of MPs in the Commons cut from 650 to 600, with numbers in Wales falling from 40 to 30.
The cross-party Welsh Affairs Committee said the "unique position of Wales" in terms of geography, culture and history should be recognised.
The committee is also concerned at the time allowed for in-depth scrutiny.
Welsh constituencies have, on average, fewer voters than those in England and there is a move to ensure constituencies are "equalised".
The chair of the Welsh Affairs Committee, David TC Davies MP, said: "By any yardstick, the government's proposals for constitutional reform would represent a profound change to the way that Wales is represented at Westminster."
He said he was pleased the committee had unanimously agreed on the report, which highlighted a number of concerns about the legislation.
"We are concerned that the aspects of the bill which particularly relate to Wales have not received as full scrutiny as they should," he said.
"Ministers now have the opportunity to address our concerns before the bill completes its passage in the Commons."
While the committee agrees with the principle that all votes should have equal weighting, it believes re-drawing constituencies based on an electoral quota "should not be the only determining factor".
Shadow Welsh Secretary Peter Hain said the existing number took into account the rural nature of Wales, and the geography of the south Wales valleys.
He said communities are separated from each other and have different identities.
"That's been widely recognised across the parties and parliament," said Mr Hain, who is not a member of the select committee.
"Now suddenly unilaterally, Wales is getting a cut in the number of MPs three times as much as England, and three times as much as the British average."
'Different weight'
Neath MP Mr Hain told BBC Radio Wales that community identity would be "trashed", while the proposals were being "rammed through", with communities not getting their chance to be consulted.
In July, Wales Office Minister David Jones told the Welsh Grand Committee that it was "worrying" that a vote in parts of Wales was worth, in some cases, double that of a vote in the south of England.
"That needs to be addressed," he said, adding that it was "wrong in principle" that votes should carry different weight.
"It is also a matter of concern that the Welsh vote has not been looked at again at a time when we have the National Assembly, and Wales has representation in another legislature," he added.
The Welsh Affairs Committee in its report said it "particularly regrets" the Welsh Secretary did not make allowance for a meeting of the Welsh Grand Committee so Welsh interests in the bill could be adequately debated.