Boys held as girl, 15, found murdered in Bridgend woods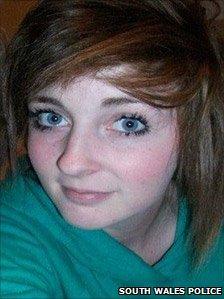 Two 15-year-old boys have been arrested on suspicion of murder after the body of a teenage girl was found in woods.
The body of Rebecca Aylward, 15, from Maesteg, near Bridgend, was found with head injuries in woodland just outside Aberkenfig at about 0900 BST on Sunday.
She was reported missing when she failed to return home on Saturday evening after visiting friends in Sarn.
Rebecca was a pupil at Archbishop McGrath Catholic High School, which said it was "deeply shocked".
Rebecca was last seen in Sarn Hill, Sarn, near Bridgend, at about 1230 BST on Saturday. She had been dropped off by relatives to visit a friend.
The 15-year-olds who have been arrested are in custody.
Father William Isaac, in a statement for Rebecca's school in nearby Tondu, said: "We are all deeply shocked and saddened by what has happened.
"Archbishop McGrath Catholic School is part of our larger Catholic family.
"Our love, thoughts and prayers go out to Rebecca and her family and friends at this very sad time.
"We are co-operating with all the agencies, including South Wales Police and Bridgend council, to provide support to all those affected by this great tragedy."
Police have appealed for anyone who may have seen Rebecca on Saturday, or has any other information, to come forward.
A help and advice line for anyone affected by the death has also been set up on 01656 724057.
Det Supt Paul Burke said: "Our thoughts are with Rebecca's family, who are naturally devastated.
"A murder investigation is under way and I would appeal for anyone with information to please contact the incident room."
BBC Wales reporter Jordan Davies, reporting from the scene where Rebecca's body was discovered, described it as a "small, wooded alcove" on the outskirts of Aberkenfig, less than five metres from the main road.
He said a large police generator was being used to light up the area.
"There appears to be police tape lining a path that winds up the wooded hill and there are police cars stationed every 15 metres up and down the road," he said.
Derek Lewis, who lives near the edge of the woods, said the spot was a popular gathering place for youngsters.
Mr Lewis, 52, said: "I've been living here 40 years. It's a regular place for youngsters to be. I've seen youngsters [aged] 10, 15 years going in there when it's dark.
"They get boisterous, but we've never had trouble. You can hear them laughing."
His sister Denise, 46, described how police arrived at the scene on Sunday morning.
She said: "There were helicopters right over the top of us. We were in the garden and everything was going on.
"We saw all the police turn up. They were stopping traffic up the lane. Then the police were in the woods. It's really sad."
Local councillor Phil White called the teenager's death "shocking and sad".
He said: "My thoughts go out to the family, this is devastating for them.
"This is a small community and the community will be choked hearing this news this morning."
Anyone with information is asked to contact the incident room at Bridgend Police Station on 01656 679585 or Crimestoppers anonymously on 0800 555 111.
Related Internet Links
The BBC is not responsible for the content of external sites.