Minister says Wales will decide on its forests' future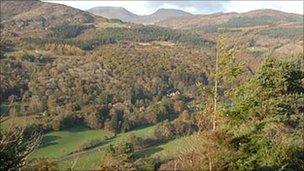 The Welsh rural affairs minister says there are no plans to sell swathes of the country's forests.
There are fears a third of UK Forestry Commission land may fall into private ownership when the Department for Environment, Food and Rural Affairs draws up its new cost-cutting strategy.
But Elin Jones says forestry is a devolved issue and the final decision will lie with Welsh ministers.
Defra said the strategy will be set out later in the autumn.
Speculation about the possible sale has prompted warnings from environmental groups.
Green MP Caroline Lucas said selling forestry land to private owners would be an "unforgiveable act of environmental vandalism".
Some newspapers have reported that UK Environment Secretary Caroline Spelman will announce plans that could see more than 150,000 hectares (386.1 sq ml) of publicly owned forest in England alone sold within three years.
Ms Jones said: "Recent media reports suggesting that Welsh forests would be among those to be sold off are unhelpful, misleading and without foundation.
"Forestry is a devolved matter and decisions affecting the future of Wales' national forests lie with Welsh ministers, not with Westminster.
"I believe the national forest is an important asset to Wales, providing access, employment, support for the timber and tourism industries and has a major role to play in helping us to tackle climate change.
"The activities of the Forestry Commission in Wales are currently under review as part of the wider review of environmental delivery bodies which will be concluded early next year."
She said she remained in contact with England and Scotland to ensure that the needs of Wales were considered as part of any proposals to change the management of forestry in England.
So far Defra has declined to comment on the full details of the anticipated strategy.
A spokesman said: "Details of the [UK] government's strategic approach to forestry will be set out later in the autumn.
"We will ensure our forests continue to play a full role in our efforts to combat climate change, protect the environment and enhance biodiversity, provide green space for access and recreation, alongside seeking opportunities to support modernisation and growth in the forestry sector."
Related Internet Links
The BBC is not responsible for the content of external sites.