Harley plays in back garden after plastic turf donation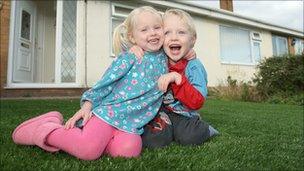 A four-year-old boy with a condition that makes him allergic to grass is able to play in his back garden after a donation of artificial turf.
Harley Noble, from Bagillt, Flintshire, has a rare form of cerebral palsy and is unable to walk or talk.
When the family moved into their bungalow they had offers of help from two north Wales businesses.
Mother Christina Noble said: "In the summer time it's going to be lovely to come outside and just play."
Harvey has an extremely rare developmental birth defect called schizencephaly.
He cannot walk or talk and his condition was stopping him from enjoying picnics with sister Lilly, three, and his mother.
Ms Noble said: "Harley's condition is very rare. There's only 70 cases worldwide reported of Harley's condition, so there's not a lot of information out there from consultants and specialists.
"He is very texture sensitive. It just means that he does not like it if he comes in to contact with [grass].
"He will be physically sick. Even the sight of it, sometimes, will make him sick.
"Summertime's the worst. Going for family picnics is a nightmare.
"Just playing in the park with him and allowing my little girl to play with him in the garden, [it] just makes it really difficult."
Help came when the family moved into their bungalow.
The vendor has a business laying artificial turf and wanted to help. The wooden baton and sand base was also donated by a business.
Ms Noble said: "It does look like real grass, so it has that factor.
"But it does not feel like real grass at all, which is the main issue with Harley. It feels quite plasticky but it's nice and soft.
"In the summer it's going to be lovely to come outside and just play, to roll on the grass with him and have little picnics outside like you do in the summer holidays.
"I'm really looking forward to it. It's going to make a lot of difference."