Young community 'outcasts' warns Prince's Trust Cymru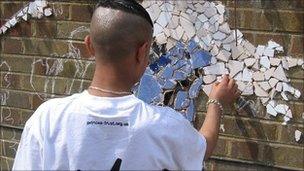 Young people in Wales feel like outcasts in their communities, a report from the Prince's Trust warns.
One in six young people in Wales said they feel like outcasts - the highest percentage in Britain.
The study of 16 to 24-year-olds also revealed that 27% feel isolated "most of the time" and almost a third do not think there is a future for them where they live.
Prince's Trust Cymru director, Rick Libbey, said it was a "tragedy".
The report by the charity which supports young people also found that youngsters do not interact with older people in their community.
According to the report, half of young people in Wales "rarely" or "never" speak to people over the age of 40 in their community while two thirds do not interact with people over 60.
But the report showed that a quarter feel ignored by older people, while almost half think older people are scared of them.
Mr Libbey said: "It's a tragedy that so many young people across Wales feel separated from the people around them.
"Being part of a community and interacting with a mix of people is a crucial part of a young person's development."
According to young people, crime, unemployment and gangs cause more problems between people in communities than race or religion.
The research highlights how young people who are not in education, employment or training (NEETs) are more likely to feel isolated.
About 40%, the research found, feel judged on their family background while 59% believe those from wealthier families will be more successful in life.
Mr Libbey added: "Our research suggests that young people from disadvantaged backgrounds are less likely to feel part of their community.
"This can be a vicious circle with these young people feeling even more isolated."
The report marks the 10th anniversary of The Prince's Trust Team programme which is a 12-week personal development scheme supporting disadvantaged young people into work, education or training.
The scheme, launched by Prince Charles in 1990, sees young people carrying out community projects in their larea.
More than 9,000 across Wales have taken part in the scheme and three quarters move into work, training or education afterwards.
Lee Hughes, 24, from Ammanford, Carmarthenshire said he was "excited" to be involved in a Prince's Trust community project cleaning gardens at Ysgol Y Bedol in Garnant, in the Amman Valley.
He said: "I often feel that the older generation do not see young people in a positive light, or see us as good role models.
"This is our chance to show that we can be a positive influence in our community and give something back.
"This project is perfect as it gives us an opportunity to show both the younger and older members of the community that we are here to support them."
Related Internet Links
The BBC is not responsible for the content of external sites.