Google claims Welsh firms lag behind UK on web presence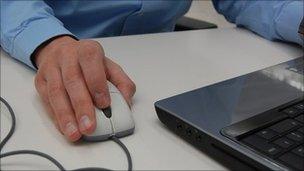 Search engine Google claims Welsh businesses are trailing behind the rest of the UK because of a lack of internet presence.
It says 25% of small and medium-sized firms in Wales have no website and only 58% have a "high web presence".
The firm estimates the "internet economy" contributed £100bn to the UK's economy last year.
Business leaders expressed surprise at the figures but said firms may still work online even without a website.
The report, commissioned by Google and compiled by the Boston Consulting Group, also scored Wales badly compared to other parts of the UK for web access.
The Welsh Assembly Government recently launched a scheme to enable those living in Wales' remaining broadband "not-spots" to approach service providers directly, with funding.
Paul Zwillenberg, who wrote the report, said the internet contribution to the UK economy last year represented more than 7% of GDP - more than the construction, transport or utilities sectors.
He said: "We've taken a conservative estimate of the size of the internet economy in the UK in comparing it to GDP.
"It doesn't take into account consumption that is researched online but purchased offline, cost savings from online shipping, or consumer surplus from consuming free online content."
He said he had been surprised to learn 25% of small or medium-sized Welsh businesses do not have their own websites.
"It is more surprising when you look at the growth we are seeing in small and medium-businesses that do have an active internet presence.
"These grew seven to eight times faster than those that didn't over past two or three years.
"We would encourage all Welsh businesses to get online and make the most of the medium."
He said no firm no matter how small or localised should rule out the potential global footprint of the web.
But Michael Learmond, north Wales organiser of the Federation of Small Businesses, said: "I think it depends on the business - if you have a small rural shop or you're providing an essential service to a rural community, I don't think you need a website.
"Sole traders sometimes even operate without having any branding on their vans because they don't always need to attract business that way.
"Google's figures are surprising but could be something to do with the broadband capacity in rural areas - an issue that is being addressed by the assembly government."
Paul Maddocks, managing director of Parkway Telecom in Saltney, Flintshire, a telecoms company which serves businesses in Chester and north Wales, expressed surprise at the figures and said the lag did not reflect his experience.
"Communications is expanding so rapidly - even small businesses are using e-mail on their phones or PDAs and lots of them are embracing an e-mail connection even if they don't have a complex website.
"But when everybody is having to work so hard through difficult economic times we are in a 24/7 culture and each business can benefit from being online, because even when the premises are closed, potential customers can access information online."
The report also found that the UK is now the world's leading country for e-commerce, exporting £2.80 for every £1 imported.
The findings are based on the creation of the e-Intensity Index, which calculates the level of broadband roll-out, take-up and speed.
The most active online businesses are based in the East of England, London, Scotland, south west England and the Midlands - even though Scotland has one of the lowest levels of consumer online engagement in the United Kingdom.