NHS Wales campaign 'saves 1,199 lives'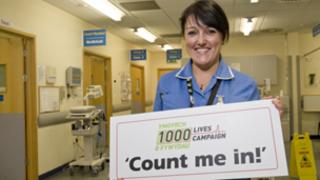 Health officials in Wales say a campaign to save 1,000 lives has surpassed its objectives since it was launched two years ago.
They estimate that 1,199 deaths have been prevented by the drive, called 1,000 Lives, as a result of measures introduced via the initiative.
The campaign focused on six key areas, including reducing healthcare associated infections.
Others were improving critical care, and reducing surgical complications.
But officials are encouraging clinical staff to strive for more, as they look to build on the figures with an initiative to reduce harm and deaths after surgery.
Acute wards
The figure of 1,199 was arrived at by taking an average of the upper and lower estimates for the numbers of lives saved.
They use a formula whereby a notional percentage of 100 would represent all the deaths on acute wards which could conceivably have resulted, given the prognosis of the patients.
The difference between the actual figure and 100 represents the percentage of lives saved.
After the two years, a mortality rate of 76.8 was recorded, and it is this figure which will be used as the baseline against which future improvements or otherwise will be judged.
A similar method was used to calculate the number of non-fatal instances of harm which were prevented over the period, producing a result of 50,000 cases of clinical harm which have been avoided.
Campaign director Dr Alan Wilson said: "NHS staff save lives every day. The 1000 Lives campaign has helped save more.
"Over the two years, we have seen staff at all levels, across all sectors - both clinical and non-clinical - committed to improving the quality of care their patients receive."
"Staff in NHS Wales deserve a big thank you for the difference they make to patients' lives, and for taking up the challenge of the 1000 Lives campaign and making it such a success."
'Good preparation'
The 1000 Lives campaign is now succeeded by a more challenging target, 1000 Lives Plus.
At the centre of this will be a drive to improve recovery after surgery, concentrating in particular on pre- and post-operative diet, exercise, medication and physiotherapy.
The system has already been piloted with success on patients receiving knee surgery at Wrexham Maelor hospital.
The project lead, Neil Windsor, said: "In this new way of working, the patient is part of the team. Patients can help immensely through good preparation and trying to keep a routine as near to normal as they can."
"Experience shows very clearly that patients do get home earlier, feeling better, and get on with their normal lives much more quickly if they are part of the programme."
The project comes against the backdrop of cuts to the health budget in Wales.
However, NHS officials maintain that any costs incurred in its implementation will be more than outweighed by the savings from speedier recoveries and lower instances of re-admission.