Children say drivers 'too fast', according to Brake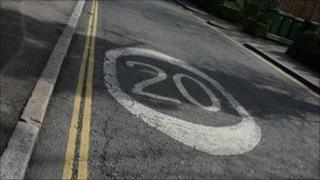 Children are campaigning for drivers to slow down, as a survey suggests almost one in eight of Welsh nine to 13-year-olds have been hit by vehicles.
Road safety charity Brake's survey found the vast majority of children were concerned about fast driving near their homes and schools.
A Cardiff primary school, where pupils have been knocked down, is campaigning for slower speeds.
In 2009, 11 children were killed and 192 seriously injured on Welsh roads.
The Brake survey, which has been carried out as part of road safety week, also found that 72% of children questioned thought roads around their home and school were dangerous for people on foot and bicycles.
Angie Smith, of Wenvoe near Cardiff, whose 16-year-old son Kyle was killed in a car crash, said she wanted to help prevent families suffering as she had.
"I'm supporting road safety week in memory of Kyle and backing Brake's calls for drivers to slow down - staying within limits and cutting your speed to 20mph around schools and homes could save a child's life, and it will cost you nothing," she said.
"If all drivers in Wales made this pledge, our communities would be safer places, and we would help to prevent other families going through the agony we've been through."
The survey of nine to 13-year-olds in Wales found that 90% thought vehicles were driven too fast around homes and schools.
Some 12%, almost one in eight, said they had been knocked down while walking or cycling.
Joel Hickman, campaigns officer at Brake, said: "All drivers have a part to play in making our roads safer for children, and one of the best ways we can do this is to slow down to 20mph or below around schools and homes.
"If you do, you have a good chance of being able to stop in time if a child runs out in front of you, and you're helping to make our communities greener, more pleasant, and more family friendly.
Slower speeds
"Children in Wales understand the need for traffic to slow down, and are appealing to drivers to make this simple commitment during road safety week."
Pupils at Ninian Park Primary School in Cardiff are demonstrating on Tuesday to call for slower speeds on local roads.
Four-year-old Riaz Uddin and his uncle Shamim Mohammed were injured in a collision earlier this year outside the school.
Mr Mohammed said: "We're supporting road safety week to call on drivers in Wales to slow down to 20mph when driving near schools and homes so that families and young children can use local roads without their lives being put in danger."
Brake said the UK had the second lowest road death rate in the EU, but its child pedestrian death rate was worse than 10 other EU countries.