Former HSBC boss has 'sympathy' for house buyers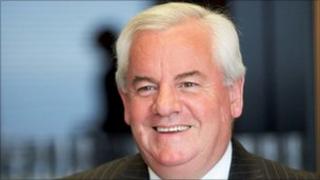 The former chief executive of HSBC says he has sympathy for first-time buyers struggling to save for a deposit and secure a mortgage.
Dyfrig John, who grew up in a farming family in west Wales, has returned home after nearly 40 years with the banking giant, and is now chairman of the Principality building society.
Mr John told the Wales@work programme that the high levels of deposit now being demanded of people trying to get on the property ladder were "a huge frustration".
But he warned: "If you get more volatility in the value of property I think that advocates that we have to continue to be quite cautious in this area.
"But it is sad that people are having to save up for so long and then as they're just about getting there this happens, so I have some sympathy with them."
Speaking to BBC Wales' business correspondent Nick Servini, Mr John said the issue should not be about the size of deposit required, but should be about whether home-owners could afford future repayments.
"At the moment of course, with interest rates being very low, people could be lulled into a sense of 'Well, I can definitely afford it', and interest rates could well increase over the next year or so - I think will increase over the next year or so - so I think therefore we just have to be cautious over that as well."
As the former chairman of one of the major high street banks, Mr John described how he was involved in high-level talks in Downing Street at the time of the financial crisis, which often lasted from 5pm till gone midnight.
"We were meeting more and more often and it tended to be with the chancellor, the governor of the Bank of England would be there and the chairman of the FSA would be there, and five or six chief executives from major banks," he said.
"This was a major crisis, this was very frightening, and not all the public would realise the great seriousness with which things were happening. It wasn't a period I would like to repeat."
Mr John predicted that the UK would see slow or no growth in the economy, rather than fast growth. And he said Wales needed to support its small and medium sized companies, as they formed the backbone of the Welsh economy.
"The key is taking businesses from two, three employees to 20, to 50, to 100," he said. "That is the art of what we have to do in Wales. It is incredibly important for Wales to have a vibrant SME sector."
You can listen again to the Wales@work programme on the BBC IPlayer