Anger over Wales rail electrification decision delay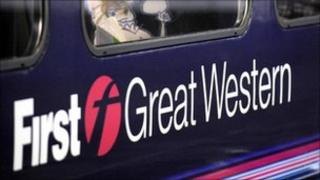 The deferral of the decision on electrifying the London to Swansea rail line has caused anger and disappointment.
A £600m electrification of the line from London to Didcot was confirmed.
But a decision on electrification of the line to Wales has been deferred until the new year.
The UK government said it must decide whether to replace the intercity fleet with electric trains, or electric-diesel hybrids.
'Sidelined'
First Minister Carwyn Jones called the announcement "disappointing" while Transport Minister Ieuan Wyn Jones accused the UK government of "sidelining" Wales.
Shadow Welsh Secretary Peter Hain also accused the UK coalition government of leaving Wales behind, but Welsh Secretary Cheryl Gillan said she remained fully supportive of the electrification project and hoped to work with the Welsh Assembly Government on the business case.
Roger Williams, Welsh Lib Dem MP for Brecon and Radnorshire, said journey times are slower than they were 15 years ago.
He said: "Good transport links are crucial to the economy of Wales and this upgrade would be an enormous boost to the Welsh economy."
Jenny Willott, Lib Dem MP for Cardiff Central added: "Electrification of the line has huge support from businesses and commuters alike and is crucial for the future prosperity of South Wales.
Jake Griffiths, leader of the Green Party in Wales said: "Stalling the electrification of this line is a real knock to the Welsh economy, particularly when we hear how projects such as CrossRail are going ahead despite London already having huge rail infrastructure.
"Meanwhile we are left with some of the oldest trains in the UK.
'Hindrance'
"Electrification of this line is vital not only to improve journey times but also because the electric trains are more energy efficient than diesel trains.
Graham Morgan, Director of the South Wales Chamber of Commerce, called the announcement a definite "hindrance".
"We need to show Wales is open for business but the UK Government is not looking after the whole country. Wales is going to have to work even harder to compete in an already competitive market.
"As an accredited Chamber of Commerce we are using our links with other chambers around the country - in particular with the London Chamber of Commerce. We have been pushing the international agenda to build stronger links for businesses connecting from Wales to Heathrow airport.
Climate change
Friends of the Earth Cymru also criticised the delay.
Director Gordon James said electrification of the line would "reduce pollution, shorten journey times and persuade more people to use public transport.
"The failure to fund this now is a missed opportunity that keeps Wales in the second division when a first class public transport system is needed to counter climate change and boost the green economy.
Cardiff council Leader Rodney Berman said he would continue to "press the case" to the government.
"I remain concerned that failure to ultimately implement electrification would seriously harm the economy across south Wales and south west England."