Third man admits Cefn Mawr post office robbery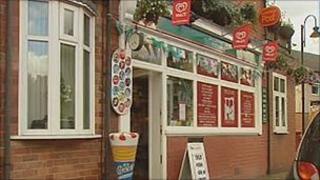 A third man who took part in an armed robbery at a post office near Wrexham has pleaded guilty to his involvement.
Jimmy Pritchard, 24, from Wrexham, will now be sentenced along with two others who have already admitted their part in the raid on the Cefn Mawr post office.
£54,000 was taken in the July robbery, in which a member of staff was injured trying to stop the theft.
Pritchard was remanded in custody at Caernarfon Crown Court and will be sentenced next month.
Two other men, Nathan White, 26, and Carl Davies, 28, also from Wrexham, admitted their part at a court hearing in September.
They also pleaded guilty to possessing a firearm, or imitation firearm, with intent to commit the robbery.