Charity calls for alcohol licensing powers for Wales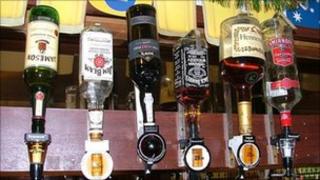 Alcohol Concern is calling for powers over the licensing and pricing of alcohol to be devolved to Wales.
Many people in Wales now drink well beyond the recommended guidelines, a report by the charity found.
It called for a minimum price of 50p per unit for all alcoholic drinks.
The assembly government said it welcomed the move to raise awareness of the consequences of alcohol misuse and the need to act swiftly to tackle the binge drinking culture.
In its report A drinking nation? Wales and alcohol the charity says statistics show that 52% of men and 38% of women admit to drinking more than the recommended amount.
It said the true figures were likely to "significantly higher".
The report said it was also widely recognised that Wales has one of the most serious problems in Europe of alcohol misuse among the young
It said the consequences of this growing national habit were reflected in increasing rates of alcohol-related diseases, and alcohol misuse in Wales was recognised as a national public health problem.
The charity said increased alcohol consumption had shown itself most clearly in the form of binge drinking in town and city centres.
But it was also less obviously shown in heavier drinking at home, the charity said, and this was encouraged by a policy of "deep discounting" of alcoholic drinks by supermarkets.
Interviews for Alcohol Concern with Welsh drinkers for the report reinforced the impression of a strong culture of alcohol overuse, with drinking to get drunk becoming increasingly normal and acceptable in Wales.
It said those interviewed talked about heavy drinking as an essential part of a good night out, often only stopping drinking whey they felt unwell or out of control - "when the room starts to spin" or "when I have to be put into a taxi".
'Considering our options'
Last month the Chief Medical Officer for Wales Dr Tony Jewell called for the assembly government to be handed powers over alcohol licensing.
A Welsh Assembly Government spokesperson said: "The Health Minister, Edwina Hart, wrote to the Home Secretary to request that the power to legislate over alcohol licensing be devolved to Wales.
"This would have enabled us to take action to tackle the availability of alcohol, including the possible introduction of a minimum price for alcohol, but the request was declined.
The spokesperson said they were "disappointed by this decision, given the clear need to tackle this issue that blights individuals and communities".
"We are now considering our options.
"We are aware that the UK Government is committed to banning the sale of alcohol at below cost price.
"We believe that whilst this is a step in the right direction, the case for introduction of a minimum price remains strong, and we expect the UK Government to carefully consider our views and the evidence on the benefits.
"The Alcohol Concern report adds further evidence to back this move."