Listen to young anger on cuts, says child commissioner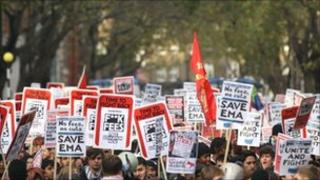 The children's commissioner for Wales has urged ministers to listen to the anger of the young as he voiced concern at the impact of public spending cuts.
Keith Towler said he understood that "tough decisions" had to be made.
But he told The Politics Show Wales his main concern was child poverty, with Wales among the UK's poorest areas.
Chancellor George Osborne said the coalition was committed to ending child poverty when he unveiled his Spending Review last month.
Mr Towler said: "I'm pretty worried, really, I guess I would be foolish not to be.
"In economic downtimes, there is a bit of a crisis, but there's always opportunity in crisis.
"But if we think cleverly then let's not lose sight of the fact that children and young people deserve the best".
'Tough calls'
He said one in three children and young people in Wales were classified as being poor and it was already one of the poorest countries in the UK.
He said he was concerned about a cap on child benefit, particularly for families with disabled children.
"One thing I don't have is the power to stop or criticise funding decisions. I don't want to sit on the sidelines criticising people because they are going to be tough decisions, tough calls and I want to work in partnership with people.
"But I'll be imploring local government, the Welsh government and the UK government to think about income levels, think about how we can protect services for the most vulnerable.
"If it's not needs-based then we're in danger of creating more poverty and more children and young people will be disenfranchised as a result".
Although there will be an overall cut of 8% in the Welsh education budget over the next three years, Mr Towler was pleased that the assembly government had "maintained a commitment" to funding schools and skills and a focus on children.
He described how Newport pupils had told him they did not want to be "landed with debt" when they went to college and may be unable to fulfill their ambitions.
"I would hope the UK government in particular will listen to that anger and understand how education is one thing that could potentially drive a wedge between the rich and the poor."
Announcing the Spending Review last month, Mr Osborne said the UK government wanted "to ensure that low income families with children are protected from the adverse effects from these essential savings".
Mr Osborne told MPs that "this government is committed to ending child poverty" and he announced an increase in the child element of child tax credit.
It will rise by a further £30 in 2011-12 and £50 in 2012-13 above indexation, which the chancellor said would mean "annual increases of £180 and then £110 above the level promised by the last government".
Mr Osborne said this would support 4m lower income families, and the effect of the Spending Review would have "no measurable impact on child poverty over the next two years".