Freeze continues in Wales as more snow expected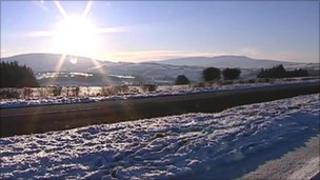 The big freeze is expected to continue overnight in Wales, with temperatures plunging and fresh snow expected.
Strong winds are forecast for Tuesday, with a wind chill factor making it feel like -5C (23F) to -10C (14F).
Icy conditions on Monday caused problems on roads and led to more than a dozen school closures.
Wales experienced record-breaking low temperatures at the weekend with Llysdinam in Powys recording -17.3C (0.86F).
Drivers were warned to take care on Monday, particularly on untreated roads, as freezing temperatures caused treacherous conditions.
A road accident on the A470 south of Builth Wells, Powys, caused delays for people travelling to the Royal Welsh Winter Fair in nearby Llanelwedd.
At one stage there was a two-mile tailback for traffic travelling to the agricultural event.
Dyfed-Powys Police were also called to a two-car crash on the A458 at Cyfronydd, near Welshpool, early on Monday.
The road was blocked for more than an hour while both vehicles were recovered, but there were no serious injuries.
Several schools were closed across Wales in counties including Caerphilly, Powys, Rhondda Cynon Taf, Flintshire and Neath Port Talbot.
Rhondda Cynon Taf cancelled all recycling and refuse collections.
The council was concerned about the condition of some side streets and pavements, and said forecasters predicted the temperature was unlikely to change.
First Cymru said some of its bus services in Carmarthenshire would not run on Monday because of icy road conditions.
Also in Carmarthenshire, Llandeilo community education centre was closed due to frozen pipes and thick ice in the car park.
'Bitterly cold'
BBC Wales meteorologist Derek Brockway forecast snow, strong winds, and freezing temperatures for Tuesday and Wednesday.
"The wind is going to be getting up on Tuesday and Wednesday. It will become fresh to strong and it's going to make it feel bitterly cold," he said.
"It will feel -5C to -10C typically.
"There will be an increased risk of frozen pipes because of the wind pushing more cold air.
"There's also some snow in the forecast, generally after midnight, and snow showers that are widespread across Wales.
"There might be a couple of inches on high ground and it could be blowing around, drifting."
BBC Wales has the latest online travel news and weather updates.