GM boss wants to bring supply industry back to Wales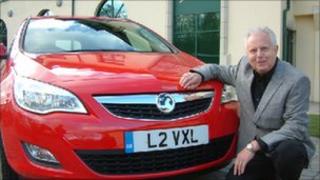 The chief executive of General Motors in the UK says he wants to bring the supply base for car manufacturing back to Wales.
Bill Parfitt, who grew up in Newport, says GM already uses 10 suppliers within Wales, spending £25m a year.
In an interview with BBC Wales' Wales@Work he talks about Vauxhall's new electric car.
He said Ellesmere Port in Cheshire stands a good chance of manufacturing it.
Mr Parfitt is also GM's chairman and chairs the supply chain group of the Automotive Council, which was set up to look at the long-term development of the industry in the UK.
He told the programme he has high hopes for the UK's industrial future.
'Under review'
His company already sources some parts in the UK and the amount has risen by £200m this year alone.
But Mr Parfitt wants to see that increase.
"We have 10 Welsh suppliers and we spend about £25m a year with them.
"There are five other potential Welsh suppliers which are under review currently.
"In the short to medium term in two-three years, there's probably £1.5bn of parts that could be purchased in the UK and longer term probably £5bn.
"Quite where Wales sits within that will depend but it has a long history of supplier base - it is in good shape.
"Quite how much it gets of the £1.5bn will depend on suppliers but it is our intention to bring as much as we can back to the UK and my personal intention to bring as much as I can back to Wales."
Mr Parfitt's personal hope is that the new Ampera E-Rev, short for extended range electric vehicle, will be built at Ellesmere Port, which employs a high proportion of Welsh workers.
The Ampera marks a move forward by GM Europe following last year's crisis, which saw its parent company General Motors (GM) file for bankruptcy, only to be rescued at vast expense by the US taxpayer.
Mr Parfitt said: "They will be imported from America initially but then of course as and when they take a hold, and they will, the UK will be the largest single market for this vehicle across Europe, so consequently, if we make second generation Ampera in Europe... Ellesmere Port stands right in the front- ready, willing and able.
"It's a model of efficiency, quality and reliability so I think Ellesmere Port stands a very good chance but it will be a commercial decision and we will have to pitch for it alongside other plants."
Last year it was rumoured Mr Parfitt would be retiring from his post but he insists he has postponed it and has a "big job" to do in bringing supply back home.
He grew up in Newport, helping his motor engineer grandfather, before joining Goodyear as an engineer.
He progressively had a career as director running the multi brand dealer groups Dorada, Sears, Lex and Henlys before joining GM initially as Fleet Sales Director in 1998.