Metal thefts in Wales putting public 'at risk'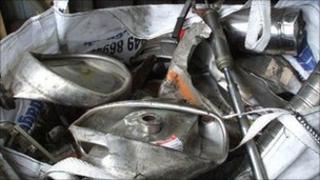 The head of a task force set up to deal with metal thefts in Wales says the problem is so bad it threatens to "fracture social cohesion".
Gwent Police Supt Harry Gamlin is heading a group of police, politicians, utility companies and rail firms to tackle the crimes.
He warned that such theft, which cost up to £6m a year in Wales, has already threatened electricity supply.
Councils and utility firms are meeting with assembly government officials.
Speaking to BBC Wales news website, Supt Gamlin said such the thefts also put the public at risk of harm.
"Members of the public are being put at risk daily by metal thieves; through unprotected manholes, right up to exposed power cables, damaged railway signalling equipment, loss of telephone coverage and the threat of power outages," he said.
"It's not an exaggeration to say that it's threatening to fracture social cohesion.
"On one occasion thieves stole so much copper wiring from the power network in Gwent that we came dangerously close to losing electrical supplies to two major urban conurbations in the county.
"If it had happened, it would have taken eight to 12 hours to restore power, posing a real danger to the most vulnerable people."
The current spike in thefts is linked to a rise in the market value of copper, fuelled by increased demand from India and China.
Recent examples range from a stolen slide at a playground in Neath Port Talbot to several miles of copper wires being stripped overnight from a railway line between Treherbert and Pontypridd.
Supt Gamlin believes that it is this degree of organisation which separates the current trend from previous spikes.
"There is a common perception of metal thieves being loveable rogues, old-man-Steptoe-type characters," he added.
"People need to wake up to the fact that they are in fact highly organised and skilled gangs of criminals, who more than likely have links to other forms of serious and organised crime.
"Most of us walk blindly around our lives, and presume that if we see men in yellow jackets messing around with phone lines or power cables, then they must have someone's permission.
"But I would encourage everyone to question what they see, if the vans, the uniforms, the time of day or the behaviour doesn't seem right to you, then contact your local police station or Crimestoppers. "
Local authorities and utility companies are meeting the assembly government on Wednesday to discuss security measures to deter the thieves.
Western Power, BT and Torfaen council are among several groups introducing an indelible 'DNA Marker' to all their metal property.
Network Rail Wales has stepped up helicopter patrols along lines and is doubling its investment in fencing and covert surveillance.
'Real problem'
Mark Langman, area general manager for Network Rail Wales, said: "The theft of cable is a constant drain on our resources and cause of considerable disruption to rail users.
"It is not a victimless crime and is not acceptable."
Ian Hetherington, director general of the British Metals Recycling Association, said they have introduced a code of conduct in conjunction with police which requires members to keep records of all metals received, and who sold it.
He said it is an initiative with which any reputable trader would be happy to co-operate.
"To combat this we are working with the Association of Chief Police Officers (Acpo) and industries, including telecommunications, railways, utilities and construction.
"It is important to remind homeowners and businesses, including metal recyclers, who regularly suffer attacks from criminals, to seek rapid police response.
"Experience shows that robust policing and attention to security procedures are important deterrents to thieves."