University of Wales 'on the fringes' claims AM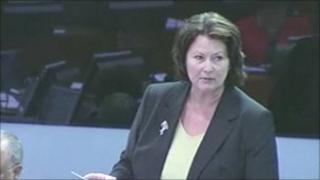 The University of Wales validates courses "definitely on the fringes of education", a Conservative assembly member has claimed.
Angela Burns made the comments during questions to the education minister in the Senedd on Wednesday.
It follows a BBC Wales investigation that revealed how a Malaysian pop star with bogus qualifications ran a college offering the university's degrees.
The University of Wales has insisted its validation procedures are rigorous.
The BBC's Week In Week Out current affairs programme - which was broadcast last month - also investigated the university's partnerships with evangelical bible colleges and an institution offering courses in traditional Chinese medicine.
It also revealed the university validated courses at a college in Bangkok, which Thai authorities claimed was operating illegally.
Such issues returned to dominate the assembly session on Wednesday.
Lib Dem education spokesperson Jenny Randerson said she was concerned about how revelations made in the programme could affect colleges that now make up the University of Wales alliance.
She said graduates of the University of Wales Newport, Swansea Metropolitan University, Trinity Saint David's, Glyndwr University and the University of Wales Institute Cardiff, would have concerns about the reputation of their degrees, which are issued by the University of Wales.
Education minister Leighton Andrews told the assembly that there was "no running away from the revelations that came out in the BBC Wales programme".
"The issues that have been raised by the University of Wales episode are serious issues and they need to be dealt with seriously," he said.
Mr Andrews has already asked the Higher Education Funding Council for Wales and the Quality Assurance Agency to investigate.
Speaking after the Week In Week Out broadcast, Professor Nigel Palastanga, university pro vice-chancellor, said: "We don't think the BBC Wales programme was a fair and accurate reflection of the University's international role, and we have already responded in detail to the specific points raised.
"We have noted the comments the minister has made and our chairman will be responding directly."