Councils in Wales get extra £7m for potholes and grit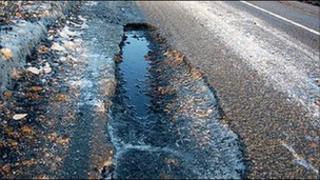 Councils in Wales are to receive an extra £7m to spend on mending potholes and buying salt to grit roads this winter.
The money, from assembly government funds, must be spent by next April.
The windfall comes after the assembly government announced 90% cuts to the roads maintenance budget from £68m this year to £6m by 2013/14.
Local Government Minister Carl Sargeant said authorities faced "gritting pressures".
"I am very aware that last winter's severe weather left a legacy of road potholes and that local highway authorities faced gritting pressures," he added.
"The resulting damage to roads is still a matter of concern to local residents and local authorities alike.
The assembly government will write to all local authorities to give further details about the funding.
Priority
It is expected that this will include how much of the £7m each of the 22 local authorities in Wales will receive.
Mr Sargeant said: "I know that local authorities are carefully planning to meet the challenges of another hard winter and it is for them to decide their priorities in terms of road repair and the purchase of road salt.
"However, in terms of gritting I expect them to give priority to the needs of the elderly and the young and to pay particular attention to areas around local shops, schools, clinics, community centres and the like."
The Welsh Local Government Association (WLGA) welcomed the announcement.
Tim Peppin, environment director at the WLGA, said: "Over the last few years bad weather and severe periods of freezing conditions have caused significant damage to roads across Wales, a cost which local authorities predict runs into the millions.
Personal injury
"This extra funding will go some way to help with the cost of the urgent repair work that is needed and, importantly, not put any further burden on councils at a time when they are already facing huge financial pressures."
The assembly government's announcement came as Welsh Conservatives revealed that the country's councils have spent nearly £14m on compensation claims following personal injury on roads or pavements over the last four financial years.
Newly-appointed Shadow Local Government Minister Jonathan Morgan AM described the situation as "absurd".
"We are now well into another cold snap and there are still damaged roads and pavements all over Wales," he added.
"This will continue to be dangerous and costly unless more action is taken as soon as possible," he said.