People wanted for BBC Wales' political panel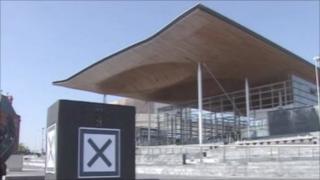 Sixty people are being sought for BBC Wales' People's Assembly to give opinion on politics ahead of a referendum on more powers for Wales and the assembly election.
The panel will be invited to give their views via BBC programmes on radio, TV and online.
It comes ahead of the referendum on extra powers for the Welsh assembly as well as the assembly elections.
BBC Wales created a 60-strong voters panel ahead of the 2007 assembly poll
Issues like tuition fees, spending cuts, the state of the roads or free prescriptions as well as the matter of allowing Wales more powers are all topics the co-ordinators of the People's Assembly/Cynulliad y Bobol say they want to hear opinions on.
They also say they want to hear from people who feel like they are not listened to by their assembly member or people who feel disillusioned with the Welsh assembly.
Every application to be a member of the panel will be considered.
The People's Assembly/Cynulliad y Bobol will be a group of voters from across Wales who will help reflect how the referendum and election campaigns are being played out where they live.
Political Editor Betsan Powys said: "Back in 2007, our group of voters were fantastic. They shared their views very clearly and some more bluntly than others.
"They asked questions, debated, shared their concerns and were on hand to give politicians a hard time.
"They appeared on TV, radio, online and really helped us reflect how people from one end of Wales to the other felt about what the politicians are telling them."
If you want to be in with a chance to be part of the People's Assembly/Cynulliad y Bobol, please ring BBC Wales' Audience Line on 03703 500 700 (0930-1930 weekdays) or e-mail: people.wales@bbc.co.uk and pobol.cymru@bbc.co.uk .
Standard geographic charges from landlines and mobiles apply and calls may be included in your telecom provider's call package.