Road salt is 'disappearing fast', Welsh councils warn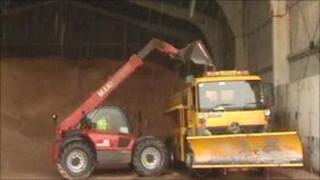 Grit supplies are "disappearing fast" in the wintry weather, councils across Wales have warned.
Three councils, Powys, Carmarthenshire and Caerphilly, have used at least a quarter of their stock, while across Wales 15% of the salt supply has gone.
Welsh Local Government Association (WLGA) spokesman John Davies said: "If this weather persists it is going to be very difficult to keep supplies going."
Councils have been given an extra £7m for pothole repair and gritting.
The WLGA is also trying to source 12,000 tonnes of rock salt from Sweden by the end of the month.
Mr Davies told BBC Wales: "We have enough grit at the moment, but it is disappearing fast."
"The effects of last winter are plain to see, and every county has suffered. These are extreme conditions but they've come early."
He said councils in the Wales and England were competing for road salt supplies from the same sources.
Welsh councils can use 12,000 tonnes of road salt on the roads in 24 hours, while salt mines could only provide the UK with up to 6,000 tonnes in the same period, he said.
"If we get the same [snow] conditions here in Wales, it's going to be extremely difficult to sustain supplies.
"It's up to central government to prioritise where the salt goes, but councils will have to prioritise locally, which could be difficult in some areas."
Powys said it had spread 4,000 tonnes of road salt on more than 1,500 miles (2,460km) of roads this week alone.
Caerphilly council, which has almost doubled its capacity since last winter, with up to 8,000 tonnes, said it had also used 25%.
Carmarthenshire council said it had used approximately 30%-35% of its 11,000 tonnes stock, although a 5,500 tonnes contingency supply was due in by end of December.
Powys council, which suffered "critically low" gritting reserves during January using 13,000 tonnes of salt compared with the usual 5,000 tonnes, has increased this winter's stock.
It has brought in 20,000 tonnes compared to its usual 14,000, and has reopened a salt store at Presteigne and created another in Rhayader.