Welsh councils missing recycling targets face fines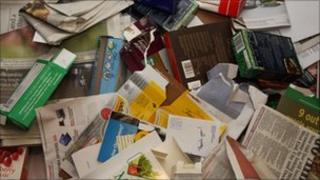 Local authorities will face penalties of £200 for every tonne of waste that exceeds assembly government recycling targets under new proposals.
The plans stem from the new waste measure passed last month to increase recycling to 70% of waste by 2025.
Councils say the potential penalties are an "unwelcome development" at a time of falling budgets.
But ministers say fines would be "a last resort", promising help for councils seen missing targets.
Last year's recycling target was 40% of waste, but was not legally binding.
Nine of the 22 councils still missed that target, some by up to 10%.
Under the new statutory system, that could have led to many hundreds of thousands of pounds in fines.
From 2012-13, councils will have a legal obligation to recycle at least 52% of waste collected, and ministers now have the power to impose financial penalties if these are missed.
Councils warn that focus on recycling could mean less emphasis on waste minimisation, and say they should not be penalised for low levels of recycling among citizens.
However, ministers point to the performance of Bridgend council, which lagged near the bottom of the Welsh recycling league table, but is now at the top and likely to meet the 70% target years ahead of schedule.
It introduced innovative new systems for collection and sorting of recyclable waste, which had a major impact on recycling rates in the county.
Tim Peppin, the environment director for the Welsh Local Government Association (WLGA) said: "At a time when local authorities are facing up to the difficult challenge of having less money, the WLGA views the possibility of penalties for not meeting recycling targets as an unwelcome development.
'Last resort'
"Indeed, councils are already subject to potential fines under the landfill allowance scheme.
"The WLGA is reassured that the Welsh Assembly Government has made clear in the draft penalties protocol that it views penalties as a last resort.
The WLGA said it would continue to "work very closely" with those councils pinpointed as missing the recycling targets, in a bid to stave off fines.
"Local authorities fully recognise their responsibilities and are committed to increasing rates of recycling as far as possible - although minimising the amount of waste created in the first place must be the priority," added Mr Peppin.
Environment Minister Jane Davidson said: "Recycling rates in Wales have increased by more than anywhere else in the UK in the past decade, and this is down in no small part to the fantastic job our local authorities have done.
"But we cannot afford to lose momentum and risk missing out on the economic and environmental benefits of being a high recycling society.
"We have already seen how successful statutory targets can be in keeping biodegradable waste out of landfill. I believe that just as every local authority in Wales has met every one of these landfill targets then every local authority in Wales can, and will, meet the statutory recycling targets set out in the waste measure."