Wales gripped by big freeze amid ice warning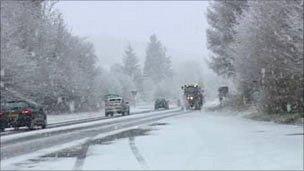 The big freeze continues in Wales with bitterly cold temperatures overnight and fresh warnings of ice on roads.
Some flights to and from Cardiff have been delayed and the Met Office said wintry showers in sub-zero temperatures could lead to ice on untreated roads.
Police are warning people to take precautions if going out in cold weather after a woman was found dead in a garden on Anglesey.
Fourteen schools are shut in Wales on Monday.
Freezing fog caused delays to some flights in and out of Cardiff Airport.
Other flights to Glasgow and Edinburgh were cancelled because the Scottish airports were closed.
Travellers were being advised to check with their flight operators before leaving for the airport.
Arriva Trains Wales said some services had been delayed by broken down trains and frozen points.
The Cardiff, Abergavenny, Hereford and Shrewsbury route to Chester, Wrexham, Crewe and Manchester was affected, as were Heart of Wales line services.
Meanwhile, police investigating the death of a 35-year-old woman at Gwalchmai, Anglesey over the weekend say it is not being treated as suspicious.
A post mortem examination has been carried out on the woman, who was found dead in a garden.
The RSPCA is urging people to take proper care of animals during the cold snap after a horse died of hypothermia in Llanelli.
Its officers were called to a field where two ponies were seen lying on the icy ground and unable to stand.
Both animals were taken into RSPCA care but the youngest died.
The animal charity said it had received "a catalogue of complaints" about the condition of tethered horses in the Swansea area.
Over the weekend, an ice climber suffered serious back injuries after a 60ft (18m) fall from a frozen waterfall in the Brecon Beacons.
The University Hospital of Wales, Cardiff said more than 1,000 were treated at its accident and emergency unit over the weekend, including a large number of trips and falls in icy conditions.
Acting lead nurse Jennie Palmer said: "The problem on Saturday was that we had about 80 people arrive before midday which is a lot; normally that kind of number would be more spread out through the course of the day."
On Monday, another 272 people had attended by 1700.
On Monday morning, road conditions were once again treacherous after temperatures as low as -8C (18F) or -9C (16F) were reported in Wales.
Freezing temperatures meant concern over ice, particularly on untreated roads, and there was also fog reported in parts of north-east Wales.
First Cymru said there had been some disruptions to bus services because of conditions but they were now running normally.
There were also school closures including in Powys, Rhondda Cynon Taf, Wrexham and Caerphilly county.
In mid Wales, Ceredigion council asked drivers over the weekend not to venture out unless their journey was essential.
Pavements in Aberystwyth were covered in black ice and treacherous for pedestrians
Emergency services have also warned of the dangers of walking on frozen lakes and rivers after a dog and its owner were rescued from a lake between Ebbw Vale and Tredegar over the weekend.
Some sunny spells are expected on Monday but there are warnings of freezing fog.
BBC Wales weather presenter Sue Charles said: "The snow began to thaw over the weekend but after another bitter night, things are about to get colder again, with ice and fog patches a problem on Monday morning.
"So it starts frosty - ice on untreated surfaces, freezing fog patches, especially along the Marches - but through the afternoon most of us should see some sunshine although temperatures will struggle to get above freezing nearer the border.
"Where we've got onshore wind, it might be more like 2 or 3C, such as Anglesey and Gwynedd.
"Overnight into Tuesday, there will be a widespread frost and further snow - it's more likely across parts of north and mid Wales and it's hard to say exactly how far south it will come. It will be colder than Monday.
"So raw northerly winds keeping temperatures down and brighter and breezy on Wednesday. There are signs that things will turn slightly less cold by the end of the week."
Related Internet Links
The BBC is not responsible for the content of external sites.