£10m bus station opens in Swansea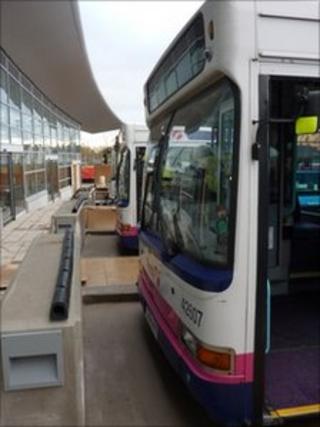 Swansea has opened a £10m central bus station, giving passengers a hub for bus services for the first time in a year and a half.
The old bus station was closed and demolished in June 2009.
Its replacement, next to the Quadrant shopping centre, has 20 bus bays and three coach stands and modernised waiting facilities.
It will also have four rangers stopping passengers from littering or smoking.
Bus services have operated from temporary positions in the city while the station was constructed.
Work is continuing on three retail units which will open after Christmas.
As well as helping people find the correct departure bay for their bus, the rangers' role will be to ensure that anti-social behaviour is nipped in the bud.
Almost 180 people applied for the posts, which are in addition to five rangers already patrolling the city centre.
John Hague, cabinet member for the environment in Swansea, said the station would be "something everyone in the city could be proud of".
He said: "I'm really thrilled we have been able to pull out all the stops to get this wonderful facility open in time for the Christmas period."
Quadrant Shopping Centre Manager Alan Wallace said: "Traders really don't mind that the opening is being done in a phased way.
"The important thing is that people have access to bus services before Christmas and that's happened so I'm delighted."