Welsh firms are expected to recruit again says Manpower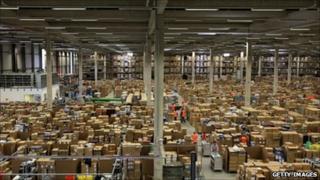 A survey shows many employers in Wales intend to increase staffing levels in the first three months of next year.
More than 2,000 companies were questioned in the research carried out by the job agency, Manpower.
It showed Wales' hiring intentions were up 18% on the last quarter and marked a return to pre-recession labour market conditions.
Overall, Wales will see the largest quarterly improvement in the UK between January and March.
Amanda White, operations manager at Manpower, said the improvements were largely seen in the business and financial services and the utilities sector.
But she added that Wales bucked the trend with a greater demand for workers in retail and logistics.
"There's a particular desire for temporary staff in Wales in those sectors, which is different to what you see across the UK.
Flexible
"There's a number of reasons for this - businesses want temporary staff because it's a flexible approach for recruitment and helps cater for peaks and demands.
"The figures for Wales show it is still a very popular place to do business, temporary recruitment is strong there and there is lots of investment in the infrastructure locally."
The Manpower Employment Outlook Survey is based on responses from 2,100 UK employers and has been going 45 years.
The hiring intention figures for Wales marked a 20% improvement on this time last year and were the region's first return to positive hiring intentions in nine consecutive quarters.
Wales' hiring prospects now look stronger than the national average, which currently stands at +2%.
'Renewed investment'
London was up 5% on last quarter, whereas the north east and Scotland fared worst in the survey.
Andrew Shellard, operations manager at Manpower, added: "Having experienced two years of negative hiring prospects, the region's return to positive hiring intentions is great news for the local economy and jobseekers alike, and an encouraging sign for 2011.
"There is currently renewed investment in infrastructure locally, such as the upgrades to the M4 corridor, which will help make Wales a more appealing place to live and work, as well as particular demand for temporary staff within warehouse and logistics, and in retail."
He said that the disparity in employer hiring intentions between the 12 UK regions is more severe now than at any point during the recession.
Those regions which are traditionally home to labour intensive workforces are showing negative hiring intentions.