S4C chair John Walter Jones steps down from the post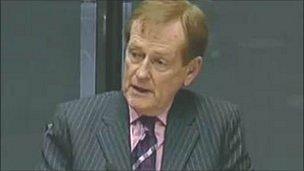 S4C authority chair John Walter Jones has stood down, stating that the present situation at the channel cannot be allowed to continue.
Mr Jones wrote to UK Culture Secretary Jeremy Hunt confirming his retirement from the S4C's governing body with immediate effect.
Last week Mr Jones told S4C staff that he would retire at the end of March.
S4C said it would not now appoint a permanent chief executive until a new authority chair was in place.
In his letter to Mr Hunt, Mr Jones wrote: "The situation pertaining at S4C cannot be allowed to continue.
"Clearly there are those that are reluctant to allow the organised change that you and I agreed upon in November to take place.
"The S4C authority must be unquestionably united and single-minded in its quest for an answer to the challenges that face the channel.
"Anything other than unanimity of approach can but be destabilising and result in an intolerable situation of instability for the dedicated staff at S4C and for the programme suppliers."
Mr Jones said that "the current obsessions by some" with issues unrelated to content or output was saddening.
But, he added, it needed to be realised that while many different agendas existed, S4C was broadcasting programmes of which it could be rightfully proud.
Mr Jones said the vast majority of its staff were dedicated to delivering success for the channel, and that action needed to be taken "to ensure that misperception does not become reality".
"Part of this action must be my immediate retirement," he wrote, "so that those charged in statute with ensuring the public accountability of S4C deal with the real and pressing challenges and concentrate their efforts on the resolution of the key issue."
In his response, Mr Hunt thanked Mr Jones for his six years of "dedicated service".
He added: "I am sorry that you felt this was the only option to make progress at S4C."
Mr Jones was appointed chairman in April 2006. Before joining S4C he was a civil servant and in 1988 established the Welsh Language Board. Until his retirement in 2004 he was the board's chief executive.
Speaking on BBC Radio Wales Mr Jones said he had retired, and not resigned.
"I wanted to go when I turned 65, at the end of March," he said.
"But all the publicity surrounding S4C and myself in recent weeks led me to the conclusion that I didn't want anyone to believe I was a hindrance to sorting out the future of S4C, especially to the discussions that are about to start between the BBC Trust S4C and the Department of Culture in London."
"I had hoped that there would be an organised transfer from myself to my successor. But this obsession with a mere mortal and his desire to get his pension intervened and I was not prepared to allow that to happen."
"I want to retire, I have retired and I'm looking forward to my retirement".
Later, a spokesman for the S4C authority said it had decided to postpone its appointment of a permanent chief executive until a new authority chair is appointed.
Arwel Ellis Owen will continue in the post he took up on an interim basis last July.
S4C also revealed that Rheon Tomos would be responsible for leading the S4C authority as vice chairman until a new chairman was appointed.
Thanking Mr Jones for his contribution Mr Tomos said S4C and its authority had to look to the future.
"There are important discussions to be had and key decisions to be made over the next few days and weeks," he said.
Vale of Glamorgan MP Alun Cairns, Welsh Conservatives' spokesman for heritage and culture, called on other members of the S4C authority to resign.
He said: "I'm very sorry that the S4C Authority have forced the chairman out, and now look to the remainder of the authority to do the honourable thing and follow suit.
"It's clear to me that the established members of the authority who have been there for some time are the root cause of the problem."
The crisis at the Welsh language broadcaster came to light in July when former chief executive Iona Jones left her post shortly after a meeting of the S4C authority.
Last month Ms Jones filed notice to take the channel to an employment tribunal over her departure.
The BBC is to take over part-funding of S4C from 2013, with the Department for Culture, Media and Sport reducing its grant by 94% over the next five years.
One of the first tasks of the incoming S4C authority chair will be to review the current organisational strategy of S4C.
A wider review is expected towards the end of this parliament on how best to deliver Welsh-language broadcasting over the long term.
Related Internet Links
The BBC is not responsible for the content of external sites.