Missing Manics star Richey Edwards' sister rights' plea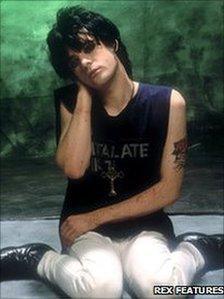 The sister of Manic Street Preachers star Richey Edwards is backing a campaign to secure more rights for the families of missing people.
The musician from Blackwood, Caerphilly disappeared nearly 16 years ago and was declared "presumed dead" in November 2008.
His sister Rachel Elias has lent her support to the Missing People charity.
It is currently fighting to ensure all unidentified bodies are matched against a national register.
Ms Elias told BBC Wales: "I remember very clearly the moment I realised he had disappeared.
"It will be 16 years ago this February.
"Sometimes it does seem such a long time ago but in other ways, because there's been no outcome, it's still something that is very much alive.
"When I got the phonecall, I never thought I would be sitting here 16 years later, still waiting for him.
"As the years go by it's a trail that runs cold and you're left in despair, just waiting."
Despite alleged sightings all over the world many believe Edwards, whose car was found near the Severn Bridge, took his own life at the age of 27.
Around 330,000 people went missing in the UK last year- a third more than the previous highest estimate.
Missing People says there are currently about 1,000 outstanding unidentified bodies and roughly 10 more are found each month.
They are not always crosschecked with the Missing Person's Register held by the police - something the charity wants changed.
A spokeswoman said: "It is clear that some of these will be missing persons, yet some have remained unidentified for more than 50 years.
"Missing People wants better joint working between police and coroners in naming unidentified bodies so that fewer families are left to suffer the pain of not knowing what has happened to a missing loved one, only to find they had died many years before."
Ms Elias added: "Those unidentified bodies are someone's brother, sister or family member either in mortuaries or council graves."
The "Missing Rights" campaign has three aims: that families of missing people know everything possible is being done to find their loved one, that families affected by a disappearance have access to support, and that those left behind are freed from bureaucracy when trying to settle their loved ones' financial and legal affairs.
The charity is pushing for legislation in England and Wales so that missing people can be declared 'presumed dead'. There has been a similar law in Scotland since 1977.
Richey's parents Graham and Sherry Edwards were granted a similar court order but Ms Elias said it was a struggle as they had to convince a judge there was overwhelming evidence he would not be coming back - a difficult task in the absence of a body.
"It's very difficult because there isn't a simple process that a family can fall into and that's all people want, to have direction at such a difficult time.
"For some families, it is very complex, maybe wives or husbands who have joint mortgages are trapped and have children and can't get out it.
"I am 100% behind the Missing Rights campaign because I believe that an overall change in culture is required in order for missing people and their families to be properly supported.
"The charity Missing People has been a lifeline to me since Richard disappeared but much more needs to be done."
Related Internet Links
The BBC is not responsible for the content of external sites.